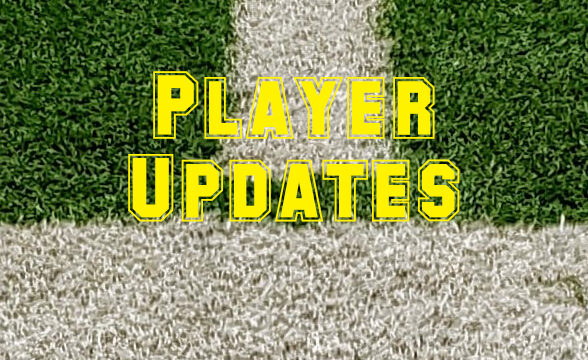 Tweet
The news of note on Friday included RB/Slotback Keoni-Kordell Makekau of Navy choosing to opt out of the season and WR Brenden Schooler announcing he would grad transfer to Texas from Oregon after a brief stop at Arizona.
Among Saturday's updates included Marshall's Grant Wells being named QB1, Georgia QB JT Daniels was active in the scrimmage but hasn't been cleared for games, & South Carolina WR OrTre Smith has missed recent practices for undisclosed reasons.
The big news on Sunday were the reports that LSU WR Ja'Marr Chase & Memphis RB Kenny Gainwell will opt out of the season and declare for the NFL Draft.
List of Injuries & Updates from August 28-30:
QBs:
Joey Cambron, MTSU – transfer portal
JT Daniels, Georgia – not cleared for games but cleared for practices and scrimmages.
Drew Gunther, transfers from Syracuse to Bowling Green
Jack Smith, Arizona State – enters transfer portal, missed 3 years due to back injury
Grant Wells, Marshall – named the starter
West Virginia preseason depth chart – Jarret Doege OR Austin Kendall
Bryce Young, Alabama – didn't scrimmage today (reports are he has missed recent practices) but expected back Monday.
RBs:
Leddie Brown, West Virginia – RB1 on preseason depth chart
Kenny Gainwell, Memphis – reports will opt out and declare for the NFL Draft
Keoni-Kordell Makekau, Navy – opts out of season
Larry McCammon, Florida Atlantic – rolled his ankle in Saturday scrimmage
A'Montae Spivey, Arkansas – "dinged up", held out of scrimmage
Malik Staples, Western Kentucky – moves from LB back to RB where he played in 2016 for Louisville
WRs & TEs:
Ja'Marr Chase, LSU – reports will opt out and declare for the NFL Draft
DeAngelo Gibbs, Tennessee – sit out this fall, focus on academics
Rahmon Hart, transfer from Ball State to Duquesne
Tyquan Johnson, South Carolina – enters transfer portal
TE Isaiah Miranda, Boston College – enters transfer portal
Brenden Schooler – will reportedly grad transfer to Texas after leaving Oregon and making a brief pit stop at Arizona before their season was postponed
OrTre Smith, South Carolina – missed practice recently due to an undisclosed issue