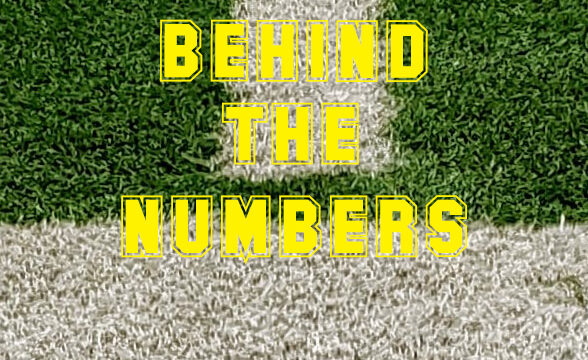 Tweet
I take a look at some key stats & fantasy takeaways that stood out for 12 different teams last weekend, since the Big Ten and Mountain West kicked off last weekend, all 12 takeaways will come from those conferences this week. The "Stat to Know" from each team is bolded, as well as players who are mentioned.
Fantasy Takeaways from Week 8 (teams listed in alphabetical order):
Hawaii – QB Chevan Cordeiro did more with his legs than expected, passing for 20/30-229-0 and rushing for 13/116-2. We are used to seeing Hawaii QBs with more production through the air, but the rushing made up for it this week. RB Miles Reed had good volume with 21/109-0. The top two WRs were who you'd expect – Jared Smart (7/89-0) and Rico Bussey (8/86-0). Basically Hawaii did everything we thought they would other than Cordeiro rushing for more TDs than he passed for (he ran for 40/212-3 last season), but you have to assume the QB/WR passing TDs will come.
Illinois – It's often not easy playing Wisconsin, and the stats showed it. QB Brandon Peters had almost as many rushing yards as passing yards, 8/19-87 in the air and 7/75 on the ground. Peters has twice as many yards as the next leading rusher Mike Epstein (8/36). The receiver stats were all ugly, but WR Josh Imatorbhebhe was targeted 10 times, with no one else at more than 3.
Maryland – expectations aren't high for this Maryland team, but losing 43-3 to Northwestern was eye-opening, so what went wrong? QB Taulia Tagovailoa threw for 14/25-94, 0 TDs and 3 interceptions (and rushed for negative yards), while in relief QB Lance LeGendre was 4/4-49 yards. Tagovailoa is QB1 on the depth chart this week. RB Jake Funk got the start and ran for 6/35. No receiver had more than 43 yards, with hyped freshman Rakim Jarrett having 1 catch for 1 yard on 4 targets. For right now I'd avoid them altogether, perhaps with the hope that they might develop enough of a passing game where someone like WR Dontay Demus (4/41 on 7 targets) might be a consistent primary receiver.
Michigan – A lot to like from QB Joe Milton who passed for 15/22-225-1 and ran for 8/52-1. The RBs shared carries as Hassan Haskins had an impressive 6/82-2, while Zach Charbonnet rushed for 4/70-1. To note is Haskins had a long run of 66 yards, while Charbonnet's was 70, so the explosive runs were the majority of their output. WR Ronnie Bell had the top game pulling in 4/74-0. Milton and Bell both look like plays, and it's too early the assess the top two RBs who only had 10 carries between them, although that in itself is an assessment (in a semi-blowout game).
Michigan State – Rocky Lombardi not surprisingly won the starting QB job, and passed for 31/44-319-3. The big surprise was that RB Elijah Collins did not start (only had 9 attempts for 3 yards), with RB Connor Heyward actually starting (7/18-0), but RB Jordon Simmons actually got the most work (14/43-0). No RB averaged more than 3.1 yards/carry, but there were some coach quotes that made it sound like they'll go with whoever is looking the best, so Collins body of work from last season (222/988-5) doesn't seem worth much now. WR Jayden Reed (11/128-2) and WR Jalen Nailor (6/84-1) both had 12 targets, which has my attention.
Nebraska – playing against Ohio State is a tough data point to evaluate, but it was interesting that their two leading rushers were both QBs, Adrian Martinez with 12/77-1 on the ground, and Luke McCaffrey with 9/87-0. Martinez threw 15 passes to 5 for McCaffrey. RB Dedrick Mills who was hoped to be the bell-cow this season, ran for 10/33-1, which hopefully will improve against non-Ohio State opponents. WR Wan'Dale Robinson was the only notable receiver, with 6/49-0 on 6 targets, with no other player getting more than 2 targets (and one of those was TE Jack Stoll who was injured). My initial takeaway here is basically one of disinterest in dual-threat QBs sharing time, with hope for Mills and Robinson against lesser foes.
Ohio State – QB Justin Fields was his brilliant self, so instead let's evaluate the two-headed RB battle and the WRs. RB Master Teague put up 12/41-2, while RB Trey Sermon had 11/55-0 with one reception for 7 yards, basically a wash other than the TDs (which obviously matter). The standout WRs were Garrett Wilson 7/129-1 and WR Chris Olave 6/104-0. Perhaps most interesting is each was targeted 7 times, with no other player getting more than 2.
Penn State – QB Sean Clifford picked up where he left off last season with 24/238-3 in the air and a team-leading 17/119-1 on the ground. RB Noah Cain was injured (for the season) after only 3 carries, so RB Devyn Ford (20/69-1) and RB Keyvone Lee (6/35-0) were next in line. The top receivers were WR Jahan Dotson (4/94-1) and TE Pat Freiermuth (7/60-1). Of note here is that Clifford only had 3 less carries than the top RB. As a point of comparison, in 2019 Clifford had 116 carries to team leader Journey Brown's 129. In 2019 Clifford only averaged 3.5 a carry, but he still called his own number a lot.
Rutgers – So who were the stars in the surprising 38-27 win over Michigan State? The weird reply is there really weren't any big offensive standouts. RB Isaih Pacheco had an average day on the ground per carry (19/61), but rushed for 2 TDs as well as caught 5 balls for 37 yards. QB Noah Vedral in his first start for Rutgers had an alright game with 18/29-169-1 passing and 9/24-1 rushing. WRs Aron Cruickshank (4/43) and Bo Melton (4/50) led the way. Pacheco getting 24 touches is my top takeaway here.
San Diego State – The opener was all about the run game as RB Greg Bell (19/111-1) and RB Kaegun Williams 10/84-0 looked strong. QB Carson Baker was only 12/25-137-1, a concerning less than 50% completion rate. No receiver had more than 2 catches or 33 yards. For comparison, last year's passing leader was QB Ryan Agnew who averaged 205 passing yards/game with 14 passing TDs in 12 games, while no receiver had more than 58 catches or 691 yards.
San Jose State – QB Nick Starkel got the start and had a solid 22/29-226-2 TD performance, I like the efficiency. RB was a disappointment as Kairee Robinson rushed for 12/31. WR Bailey Gaither had 8/110 receiving on 13 targets. Last year's other standouts this week – Tre Walker (4/38, 4 targets) and Isaiah Hamilton (1/6, 1 target). We all know that WRs can rise and fall from game to game, but 13 targets for Gaither to a combined 5 for Walker/Hamilton is my major takeaway.
UNLV – QB Max Gilliam was the surprise starter 13/21-105-1 but put up a mediocre statline. QB Kenyon Oblad (last year's starter much of the season) had 2/4 for 2 yards passing, while QB Justin Rogers had 2/4 for -1 yards passing. RB Charles Williams rushed for 20/80-0. No receiver had more than 44 yards (Steve Jenkins), but the real storyline here is that some receivers were mysteriously absent including Randal Grimes (44/696-7 last season) and Mekhi Stevenson (Covid-related issues in the receiver room perhaps?), so it's hard to measure how much impact missing some receivers had on the game. Until things get sorted out here the RB Williams seems to be a reliable play.