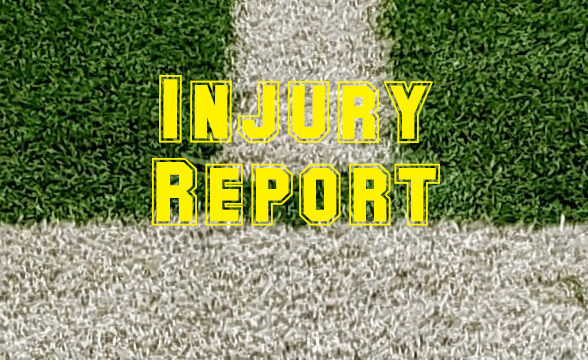 Tweet
I break down the injury news from this past weekend with notes on each player who may have been dealing with injuries.
A few notes about this list, being on it does not for sure mean a player is "injured", but rather:
They may have missed the game due to a known injury (ok, this does mean they are injured)
They may have gone out of the game due to injury and not returned (sometimes with an official announcement from the team)
They may have left the game but returned, or at least attempted to return (sometimes these guys end up banged up enough to miss future games)
They may have had a vague twitter mention about possibly being injured or leaving a game, so it's something on my radar
I'll continue to post any updates I see during the week, those will be added to daily updates as well as the injury database.
If you are aware of a fantasy-relevant injury from this weekend that you don't see here (or don't see listed in the database), or think anything shared here is incomplete, please tag me on twitter with a link and let me know, thanks!
List of Potential Injury News from Fri-Sat Nov 27-28 (unless noted):
RB David Bailey, Boston College – in the 2nd half he was officially announced to be out the rest of the game with an upper body injury
RB LD Brown, Oklahoma State – pregame reports were conflicting between that he was unlikely to play or that he was a gametime decision, he was dressed out in pregame but did not play
WR Terrell Bynum, Washington – in the 4th quarter he went to the locker room after getting tackled and coming up holding his left arm/hand
RB Demetric Felton, UCLA – in the 4th quarter he limped off the field and was sitting by the medical tent, the team did not have a postgame update
QB Tristan Gebbia, Oregon State – late in the 4th quarter on Friday night he appeared to suffer a leg injury on a goal line play and was helped off the field, he was pictured on crutches
RB Jahmyr Gibbs, Georgia Tech – in the 2nd quarter he went to the locker room and in the 2nd half was seen on crutches on the sideline
QB Grant Gunnell, Arizona – was injured on the first play from scrimmage and did not return, in postgame the injury was confirmed to be to his throwing shoulder
QB Trae Hall, New Mexico – on Thursday he was carted off in the 3rd quarter and was said to be getting taken to get X-rays on his ribs
WR Malik Heath, Miss State – in the 4th quarter he went down in the end zone holding his leg, unclear if it was perhaps just a cramp
WR Berkeley Holman, Northwestern – in the 4th quarter he was put on a backboard, carted off and taken to a hospital. Later reports were that he was doing good and expected to head home last night.
RB Chuba Hubbard, Oklahoma State – did not play Saturday as the reports were that he had re-aggravated his ankle injury last game
RB Caleb Huntley, Ball State – participated in pregame warmups but ultimately was not able to play due to an undisclosed injury
RB Isaiah Jacobs, Maryland – in postgame it was shared that he had suffered a hamstring injury in the 2nd quarter
QB Lucas Johnson, San Diego State – in pregame it was announced that he would not start due to a hamstring injury
QB Phil Jurkovec, Boston College – appeared to injure his left knee/leg in the third quarter and the team announced he would not return to the game, on Sunday it was shared his X-ray came back clear
WR Jalen Knox, Missouri – in postgame it was shared that he did not play much due to tweaking his lower leg early in the game
WR Chase Lane, Texas A&M – in the 4th quarter he fell on his left arm after an incomplete pass and was down on the field for a while
WR Bubba Ogbebor, Arkansas State – was carted off in the second quarter and in postgame it was thought he may have torn his patella tendon and would get an MRI
WR JaVonta Payton, Miss State – injured after taking a hit on a pass over the middle in the first half, went to the locker room and did not appear to return
QB Michael Penix, Indiana – went down on a QB run in the 3rd quarter and had to be helped off, in postgame it was said to be a lower leg injury
QB Eli Peters, Toledo – went down with an injury in the 4th quarter and was replaced by Carter Bradley
QB Daniel Richardson, Central Michigan – in the 3rd quarter on Friday he was hurt on a QB run and was carted off the field with an air cast on his leg
QB Kurtis Rourke, Ohio – left the game in the 2nd quarter and did not return, a writer described it as a left shoulder injury and in postgame it was said "it is an injury that is probably going to take some time to recover".
WR Bryan Thompson, Utah – in the 2nd quarter his head appeared to hit the ground as he was tackled after a catch, did not appear to return
QB Desmond Trotter, South Alabama – left the game in the 3rd quarter after appearing to get his ankle rolled up on and did not return
RB Xazavian Valladay, Wyoming – in the 2nd quarter on Friday he was seen getting his foot iced and then went to the locker room. He was in street clothes in the 2nd half and was going to get an MRI.
QB Noah Vedral, Rutgers – was ruled out right before kickoff and was shown by cameras looking uncomfortable as he threw passes in pregame, in postgame he was said to have gotten hurt in the Michigan game last week
QB Shai Werts, Georgia Southern – in the fourth quarter he went to the medical tent and was replaced by Justin Tomlin, on Sunday was said to be struggling with a shoulder injury
RB DJ Williams, Auburn – limped off in the 1st quarter and in postgame was said he "got hurt"
WR Marlon Williams, UCF – did not play Friday, in postgame the team admitted they knew early in the week he would be unavailable