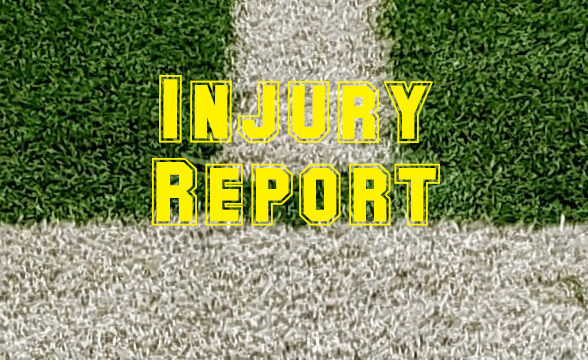 Tweet
I break down the injury news from this past weekend with notes on each player who may have been dealing with injuries.
A few notes about this list, being on it does not for sure mean a player is "injured", but rather:
They may have missed the game due to a known injury (ok, this does mean they are injured)
They may have gone out of the game due to injury and not returned (sometimes with an official announcement from the team)
They may have left the game but returned, or at least attempted to return (sometimes these guys end up banged up enough to miss future games)
They may have had a vague twitter mention about possibly being injured or leaving a game, so it's something on my radar
I'll continue to post any updates I see during the week, those will be added to daily updates as well as the injury database.
If you are aware of a fantasy-relevant injury from this weekend that you don't see here (or don't see listed in the database), or think anything shared here is incomplete, please tag me on twitter with a link and let me know, thanks!
List of Potential Injury News from Saturday Nov 21 (unless noted):
WR Javen Banks, Texas State – in the first half he went to the medical tent after catching a pass, in postgame the team did not yet know the full extent of the injury
RB Tank Bigsby, Auburn – went to the medical tent in the first quarter with what may have been a hip injury after landing on his side, was seen riding an exercise bike on the sideline, came back in for a carry but was then done for the day. He was later said to have been ruled out for the game with a lower body injury. On Sunday night he was described as questionable.
QB Seth Boomer, Tulsa – came in as a reserve after Zach Smith was hurt, he was hit throwing a pass near the end of the 3rd quarter on Thursday night and was taken off the field on a cart, in postgame his injury was said to appear "pretty significant"
QB Max Bortenschlager, FIU – in the third quarter he went to the medical tent but after being evaluated came out without a helmet and did not return
RB Rakeem Boyd, Arkansas – did not suit up for the game Saturday for what was speculated to be covid-related reasons
RB Christopher Brown, Cal – a surprise scratch announced by the team in pregame, he was reported to have a nagging injury that had made him a gametime decision on pregame radio, so it is not covid-related
RB Stephen Carr, USC – reported to have not practiced much last week, and was pulled early from the game after only one carry. On Sunday it was clarified that he took a knee to the back of the head.
WR Britain Covey, Utah – reported to have suffered a minor injury in practice last week, warmed up pregame but did not play
RB Devyn Ford, Penn State – he played the first drive of the game but did not appear to play again and did not come out for the second half, in postgame he was simply said to have "left with an injury"
TE Pat Freiermuth, Penn State – was not dressed in pregame, then in postgame it was shared he will be having season-ending surgery for an injury suffered against Ohio State the previous week
WR DeMarcus Harris, Kentucky – left the game in the first half and was reported to be out the rest of the game after taking a helmet to helmet hit on a pass attempt
WR JJ Holloman, FIU – after a pass attempt in the 2nd quarter he went to the medical tent and did not appear to return
RB Mohamed Ibrahim, Minnesota – in the 4th quarter on Friday night was seen holding his arm/hand on the sideline and did not play in late game series, in postgame he was said to have been banged up and he was held out by team trainers who were thinking long-term
WR Javon Ivory, Memphis – in the second quarter he walked slowly to the sideline after laying down on the field injured, in the second half he was on the sideline without pads
WR Racey McMath, LSU – in the 3rd quarter he hobbled to the training table after a non-contact injury on a deep route that appeared to reporters to possibly be a hamstring injury
QB JaCobian Morgan, Syracuse – in the 3rd quarter on Friday night he took a hit on a sack, went to the medical tent, and was thought to have had a head injury/been in concussion protocol, there was a false report in-game that he had been taken to a hospital
WR Skyy Moore, Western Michigan – surprisingly did not play on Wednesday night, after the game was started it was shared he had been banged up and suffered an injury in practice, but no further details
QB Eli Peters, Toledo – in the 2nd quarter on Wednesday night he went to the locker room after being hit on a sack, he came out on crutches with ice on his left knee, although he was seen later in the game on the sideline walking around without crutches, which seems hopeful
QB Cameron Rising, Utah – was knocked out of the game on a sack in the 2nd quarter with what one report said was a shoulder injury, he was not in pads on the sideline in the second half. Whether it be due to his injury or the play of QB Jake Bentley, the postgame comments were that Bentley looked like the QB going forward.
RB Chris Rodriguez, Kentucky – reports came out on Friday night that Kentucky was dealing with Covid issues, and that Rodriguez was among those who would not be able to play.
RB Tayvon Ruley, Temple – went down on a hit late in the 2nd quarter and did not appear to be on the sideline in the second half, in postgame he was said to have a shoulder injury that needed further assessment
QB Spencer Sanders, Oklahoma State – left in the first quarter and was sitting on the training table without a helmet for a time with what was thought to possibly be concussion protocol and was held out, but then he surprisingly came back into the game in the second half after sitting out quite a while, so who knows what went on there.
WR Shi Smith, South Carolina – in the first quarter he was crushed by two players on a passing route, he walked off slowly to the medical tent and then the locker room. He was later in street clothes and then in postgame was said to have been ruled out 5 minutes after the injury, is in concussion protocol, but looked "fine in the locker room"
QB Zach Smith, Tulsa – left the game in the 2nd quarter on Thursday night and went to the locker room with an apparent torso/ribs injury, came back out to the sideline in uniform but was said to be unlikely to return and did not
RB Markese Stepp, USC – did not dress for the game, and in postgame was shared to have had a pectoral strain and had practiced during the week but wasn't able to go for the game
QB Dorian Thompson-Robinson, UCLA – late in the week reports came out that his status was in question for covid-related reasons. He tweeted out that he did not have covid but ultimately he and a number of other UCLA players were held out due to covid-related reasons, so he likely was in contact tracing
RB Sean Tyler, Western Michigan – limped off in the 3rd quarter on Wednesday night, not putting any weight on his right leg after getting tackled awkwardly in a horse-collar type tackle, and did not return. He was later seen on crutches on the sideline.
WR Jalen Virgil, App State – he was carted off the field before halftime and did not appear to return to the game
QB Shai Werts, Georgia Southern – in the 4th quarter he went to the injury tent after getting tackled on a run. He returned to the game but from highlights I saw did not appear to be in on the last possession as time expired (QB Justin Tomlin was in).
QB Tate Whatley, Southern Miss – in the 4th quarter he caught his own batted down pass and appeared to hurt his right shoulder getting hit
WR Seth Williams, Auburn – in the 4th quarter after going for a deep ball he appeared to be injured and was checked by trainers. In postgame Williams said it was "a stinger" and "everything is good".