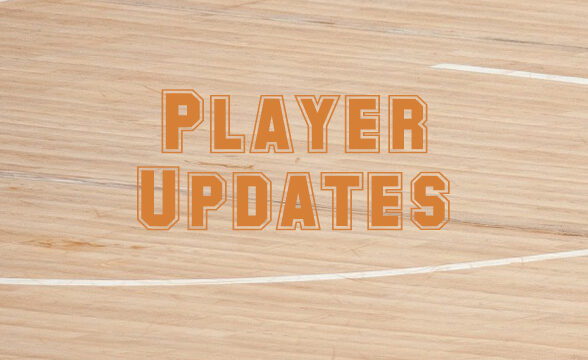 Tweet
On Wednesday notable players unexpectedly not playing were Ryan Daly (St Joe's), Chase Johnson (Dayton), RJ Nembhard (TCU), Jason Preston (Ohio, lower body) and Andre Gustavson (Richmond).
Suffering injuries on Wednesday were Trey Wertz (Notre Dame, ankle), Justin Smith (Arkansas, ankle), Jaren Holmes (St Bonaventure, back spasms), and Manny Bates (NC State, knee).
Returning to action after missing time, all for covid-related reasons, were DJ Funderburk (NC State), Francisco Farabello (TCU), Greg Foster & Cameron Brown (Saint Joe's), Dwon Odom (Xavier) & Tyler Polley (UConn).
In injury updates, Isaiah Cottrell (West Virginia) is out for the season with a torn Achilles, Marcus Bagley (Arizona State) is healthy after his calf injury but teammate Taeshon Cherry will be out for a week. Connor Crabtree (Richmond) is out 10-12 weeks with a fracture in his foot and Joey Brunk (Indiana) had back surgery and will continue to be out indefinitely. Cincinnati saw Mamoudou Diarra return from opting out but Rapolas Ivanauskas has now decided to opt out.
(Injuries & Updates in the first section, Transfers down below.)
Injuries and Updates from Dec 30:
Braelee Albert, Vanderbilt – DNP (ankle), out 2-3 weeks
Mustapha Amzil, Dayton – started in season debut – 22 points
Marcus Bagley, Arizona State – is completely healthy after calf injury
Manny Bates, NC State – suffered apparent knee injury in the first half Wed night, came back out with knee sleeve but returned to the locker room and the team announced he was done for the night, will get MRI
Khalif Battle, Temple – DNP again (hamstring)
Josaphat Bilau, Wichita State – DNP (knee), should be available Sat.
Boston College – Frederick Scott, Luka Kraljevic DNP again
Clevon Brown, Vanderbilt – DNP again (ab strain)
Joey Brunk, Indiana – had back surgery and will continue to be out indefinitely
Cincinnati – Mamoudou Diarra rejoins the team but Rapolas Ivanauskas has opted out
Taeshon Cherry, Arizona State – out for a week (covid-related)
Isaiah Cottrell, West Virginia – will miss the remainder of the season with a torn Achilles tendon suffered in Tuesday's game
Connor Crabtree, Richmond – out 10-12 weeks with a fractured foot
Ryan Daly, St Joseph's – DNP, had cast on left hand, described as a thumb injury
Dayton – Elijah Weaver & RJ Blakney DNP with injuries suffered in practice
Ibrahima Diallo, Ohio State – DNP, knee injury in practice
Francisco Farabello, TCU – returned to action off bench – 3 pts/33 mins
Daniel Foster, Nevada – still two weeks away from debut (shoulder)
Andre Gustavson, Richmond – DNP, groin, day to day
Jermaine Harris, Rhode Island – played after banged up last game – 8 pts/27 mins
Jaren Holmes, St Bonaventure – started but left after 1 minute with back spasms
Musa Jallow, Ohio State – DNP (expected, contact tracing)
Chase Johnson, Dayton – is stepping away from basketball
Jared Kimbrough, LaSalle – DNP again
Oscar Lopez, DePaul – DNP (knee injury last game)
Dieonte Miles, Xavier – DNP again (undisclosed)
NC State – DJ Funderburk (21 points/30 mins), Chase Graham, Ebenezer Dowuona were all available after missing time in covid-protocols
RJ Nembhard, TCU – DNP, groin injury
Dwon Odom, Xavier – returned to action (covid) – 4 pts/15 mins
Chuba Ohams, Fordham – DNP (expected, knee)
Tyler Polley, UConn – returned to action (covid-related) – 5 pts/16 mins
Justin Smith, Arkansas – suffered an apparent ankle injury in the first half Wed. and came back out the bench with a boot on his foot
St Joseph's – Greg Foster & Cameron Brown returned to action in the starting lineup (covid-related), Myles Douglas made his season debut
Mikal Starks, Georgia – warmed up but DNP again
Jalen Tate, Arkansas – started after dealing with ankle injury last game
Aaron Thompson, Butler – DNP again (knee)
Trey Wertz, Notre Dame – suffered a sprained ankle in the first half and was ruled out for the rest of the game
Transfer Updates from Dec 30:
Justin Winston, St. Bonaventure – enters transfer portal – 3.0 ppg/2 games