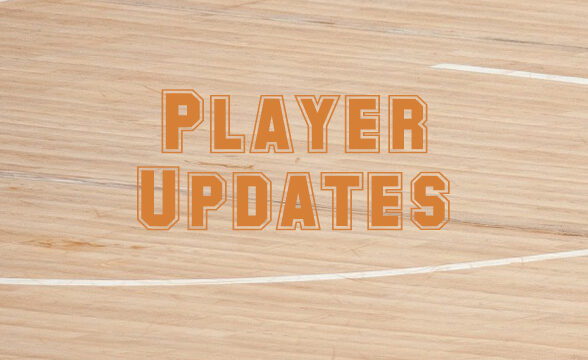 Tweet
On Saturday unexpectedly sitting out were Austin Reaves & Alondes Williams (Oklahoma) for covid protocols, Charlie Moore (DePaul) with an elbow injury, Bubba Parham (Georgia Tech) for personal reasons, Levi Stockard (VCU) in concussion protocol and Colby Jones (Xavier) due to covid protocols.
Returning to action included Cade Cunningham (Oklahoma State), Sam Sessoms (Penn State), Jalen Coleman-Lands (Iowa State) and Cormac Ryan (Notre Dame).
Several players played after dealing with injuries in or since their last games, notably Jalen Carey & Jermaine Harris (Rhode Island), Justin Smith (Arkansas), KyKy Tandy (Xavier) & AJ Wilson (George Mason).
Bo Hodges (eligibility) and Christian David (knee) made their season debuts for Butler.
Suffering possible injuries were DaJuan Gordon (Kansas State) who left the game in the first half with a foot injury, KeShawn Curry (VCU) who limped off and returned to the bench with a walking boot, and Darius Days (LSU) went to the locker room with a knee injury and did not return.
Isaiah Wong (Miami) left the game near the end of the second half with a sprained ankle, Jaylin Williams (Arkansas) was limited after suffering a knee bruise, Yves Pons (Tennessee) turned an ankle late, Jules Bernard (UCLA) missed a good deal of time with a knee bruise but returned, and Xavier DuSell (Wyoming) sustained a back injury in the second half of the game.
In injury updates, Greg Williams (St John's) is questionable for Sunday, Isaac Bonton (Washington State) appears to have made the trip for the game Sunday, Josh Nickelberry (Louisville) is probable for Monday, Bubba Parham (Georgia Tech) will travel for Monday's game, and Ian DuBose (Wake Forest) is a gametime decision for Tuesday.
If you find value from posts like this and the @NCAAFantasyHoop twitter feed, would you consider making a donation through a secure Paypal link on this site to support my work? Donate Here!
(Injuries & Updates in the first section, Transfers down below.)
Injuries and Updates from Jan 30:
Bryan Antoine, Villanova – DNP again (shoulder)
Maceo Austin, Duquesne – DNP again
Oumar Ballo, Gonzaga – DNP again (thumb)
Avery Benson, Texas Tech – DNP again (leg)
Jules Bernard, UCLA – landed hard in the first half, missed time due to a knee bruise, returned in the second half – 0 pts/11 mins
RJ Blakney, Dayton – DNP again (but was available, recovered from injury)
Isaac Bonton, Washington State – made the trip for Sunday's game according to his social media (flu)
Jared Bynum, Providence – DNP again (groin)
Cade Cunningham, Oklahoma State – returned off the bench – 21 pts/31 mins
KeShawn Curry, VCU – left in the first half with a left ankle sprain, came back to the bench with a walking boot, did not sound serious
Christian David, Butler – season debut (knee) – 0 pts/2 mins
Darius Days, LSU – left in the 2nd half with an lower body injury, was taken to the locker room in a wheelchair, in postgame was said he will be out a couple weeks with a knee injury
Ian DuBose, Wake Forest – was in early shoot-around but not dressed for pregame, GTD for Tuesday
Xavier DuSell, Wyoming – injured his back in the 2nd half, not thought to be significant
East Carolina – Tyrie Jackson & Charles Coleman DNP again, Miles James returned to action – 2 pts/13 mins
Francisco Farabello, TCU – DNP again (calf)
Ferron Flavors, Oklahoma State – warmed up, DNP again (finger)
DaJuan Gordon, Kansas State – left in the first half for the locker room with a foot injury, planned to get x-rays
Christian Gray, Fresno State – DNP again (shoulder)
Bo Hodges, Butler – gained eligibility, made debut (missed some time late in the game with leg cramps) – 11 pts/27 mins
Collin Holloway, Georgetown – DNP (knee, expected)
Iowa State – Solomon Young, Tre Jackson, & Javan Johnson DNP again (covid) , Jalen Coleman-Lands returned off the bench – 7 pts/23 mins
Isaac Lopez, DePaul – DNP again (knee)
Isaiah Marin, New Mexico – DNP again (undisclosed)
Tristan Maxwell, Georgia Tech – DNP again (foot)
Miami – Chris Lykes, Earl Timberlake, & Elijah Olaniyi DNP again
Charlie Moore, DePaul – DNP, elbow
Josh Nickelberry, Louisville – limited in practice today (wrist), probable for Monday
Oklahoma – Austin Reaves & Alondes Williams DNP, covid protocols
Bubba Parham, Georgia Tech – DNP, personal, family funeral, will travel for Monday's game
Anthony Polite, Florida State – DNP again (shoulder)
Yves Pons, Tennessee – hard fall in 2nd half, limped off, in postgame it was said to be a turned ankle but he could have returned
Justin Powell, Auburn – DNP again (concussion)
Rhode Island – Jalen Carey (5 pts/19 mins) & Jermaine Harris (5 pts/11 mins) both played after being limited with injuries last game
Cormac Ryan, Notre Dame – returned to action – 19 pts/27 mins
St Joe's – Ryan Daly & Jack Forrest DNP again
San Diego State – Aguek Arop & Keith Dinwiddie DNP again
Sam Sessoms, Penn State – returned to action (ankle) – 8 pts/19 mins
Sasha Stefanovic, Purdue – DNP (covid, expected)
Justin Smith, Arkansas – started after missing practice (undisclosed)
Stanford – Bryce Wills, Ziaire Williams, Daejon Davis DNP again
Levi Stockard, VCU – DNP, concussion protocol – back in a couple days
Bryce Thompson, Kansas – DNP (finger, expected)
Vanderbilt – Quentin Millora-Brown & Braelee Albert DNP again
Virginia – Kody Stattmann & Kadin Shedrick DNP again
Virginia Tech – Tyrece Radford & Cordell Pemsl DNP again
Richard Washington, San Jose State – DNP again (head)
Greg Williams, St John's – limited at practice (back), quest for Sunday
Jaylin Williams, Arkansas – bad knee bruise kept him out of 2nd half
AJ Wilson, George Mason – started after injury last game
Isaiah Wong, Miami – left the game near the end of the second half with a sprained ankle
Xavier – Colby Jones DNP, covid protocols, hopeful for Wednesday Dieonte Miles DNP again, KyKy Tandy played (0 pts/3 mins)
Transfer Updates from Jan 30:
Nolan Dorsey, New Mexico – enters transfer portal – 0.9 ppg