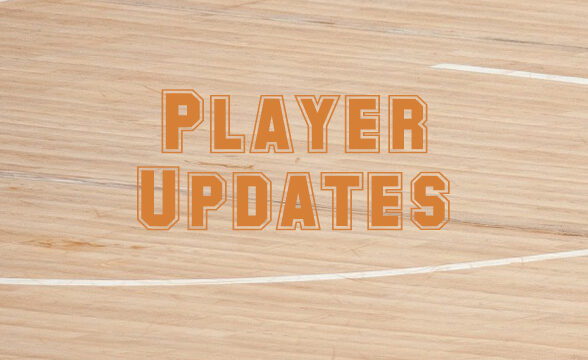 Tweet
On Saturday newly sitting out were Armaan Franklin (Indiana) after an ankle injury last game, Jahvon Blair (Georgetown) as a coach's decision, Oscar Lopez (DePaul) with an ankle injury, Isaac Likekele (Oklahoma State) with a hand injury, Boston College's CJ Felder (undisclosed) & Rich Kelly (foot, out season), Nijel Pack (Kansas State) with an eye infection, Jack Clark (La Salle) undisclosed, and Isaac Bonton (Washington State) with ankle issues again.
Returning to action included Nick Ongenda (DePaul), James Karnik & Frederick Scott (Boston College), Trae Hannibal (South Carolina), Justin Lewis (Marquette), Kerr Kriisa (Arizona), Trevor Anderson (Wisconsin), Clevon Brown (Vanderbilt), Antonio Gordon & Rudi Williams (Kansas State), Akok Akok (UConn), MJ Walker & Tanor Ngom (Florida State), David Johnson (Louisville), Mikael Jantunen (Utah), Jonathan Tchamwa Tchatchoua (Baylor), and Jaelen House (Arizona State).
Suffering in-game injuries were Vince Williams (VCU) who left the game in the 2nd half with a lower body injury and was seen icing his ankle, Josh Carlton (UConn) left in the 2nd half with an ankle injury, went to the locker room, did return to the bench area, Jamal Cain (Marquette) took a shot to the head later in the 2nd half and was helped off the court, Rasir Bolton (Iowa State) suffered an ankle injury in the first half and did not return, Malik Williams (Louisville) played but early in the second half it was announced he would not return as his foot injury flared up, Jeremy Sheppard (Rhode Island) sprained an ankle in the first half and came out of the locker room on crutches, and Rylan Jones (Utah) dove for a ball in the first half and appeared to aggravate his shoulder injury, came out for the 2nd half in a sling.
Notables remaining out included Ayo Dosunmu (Illinois), Sharife Cooper (Auburn), Jamarius Burton (Texas Tech), Bones Hyland & KeShawn Curry (VCU), Scotty Pippen (Vanderbilt), Liam Robbins (Minnesota), Oscar da Silva (Stanford), and Josh Christopher & Marcus Bagley (Arizona State).
In injury updates, Nate Johnson (Xavier) was declared out for the rest of the season with a lower leg injury, Harlond Beverly & Chris Lykes (Miami) were confirmed to be done for the season, Armaan Franklin (Indiana) may not play again in the regular season, Justin Powell (Auburn) has started working out again, Darryl Morsell (Maryland) is a GTD on Sunday, Scotty Pippen (Vanderbilt) has a hip bruise and could return next week, Marcus Bagley (Arizona State) is hopeful for Monday, and Jalen Cone (Virginia Tech) is not expected to play next week.
If you find value from posts like this and the @NCAAFantasyHoop twitter feed, would you consider making a donation through a secure Paypal link on this site to support my work? Donate Here!
(Injuries & Updates in the first section, Transfers down below.)
Injuries and Updates from Feb 27:
Akok Akok, UConn – returned to action – 0 pts/4 mins
Teddy Allen, Nebraska – played off the bench (wrist) – 0 pts/10 mins
Trevor Anderson, Wisconsin – returned to action (upper body) – 5 pts/18 mins
Arizona State – Josh Christopher & Marcus Bagley (hopeful for Monday) DNP again, John Olmsted DNP (illness), Pavlo Dziuba was available, Jaelen House returned to action (back) – 10 pts/29 mins
Jahvon Blair, Georgetown – DNP, coach's decision, will play next game
Rasir Bolton, Iowa State – left in the first half with an ankle injury, was said by the team to be questionable to return and did not
Isaac Bonton, Washington State – DNP, ankle issues again
Boston College – Rich Kelly DNP (foot, done for season), CJ Felder DNP, Luka Kraljevic & Justin Vander Baan DNP again, James Karnik returned (5 pts/17 mins), Frederick Scott returned to action – 18 pts/22 mins
Christian Brown, Georgia – DNP again (lower body)
Jamarius Burton, Texas Tech – DNP again (toe)
Josh Carlton, UConn – left the game with an apparent knee injury in the 2nd half, went to the locker room, returned to the bench area, in postgame was said to be a rolled ankle, unclear how severe
Jack Clark, La Salle – DNP, undisclosed
Jalen Cone, Virginia Tech – DNP again (ankle), not expected to play next week, hopeful for ACC tournament
Sharife Cooper, Auburn – DNP again (ankle), not wearing a boot
Oscar da Silva, Stanford – DNP again (groin)
DePaul – Javon Freeman-Liberty DNP again (concussion), Oscar Lopez DNP, ankle, Nick Ongenda returned to action (ankle) – 3 pts/14 mins
Ayo Dosunmu, Illinois – DNP again (facial)
Florida State – MJ Walker returned as a starter (9 pts/29 mins), Malik Osborne played after an ankle injury (3 pts/20 mins), Tanor Ngom returned
Armaan Franklin, Indiana – DNP (ankle, different ankle than last time), may not play again in the regular season
PJ Hall, Clemson – DNP again (undisclosed)
Jalen Hill, UCLA – DNP again (personal)
Mikael Jantunen, Utah – returned as a starter (quarantine) – 6 pts/34 mins
Rylan Jones, Utah – went to the locker room after aggravating his shoulder injury in the first half, came out with sling – 2 minutes played
Kansas – Latrell Josell DNP, walking boot, may be out a while, Gethro Muscadin DNP, leg bruise, day to day
Kansas State – Antonio Gordon returned & started (foot) – 6 pts/28 mins, Rudi Williams returned (hand) – 5 pts/14 mins, Carlton Linguard DNP again, Nijel Pack DNP (eye infection)
Kerr Kriisa, Arizona – returned to action (groin) – 3 pts/23 mins
Eddie Lampkin, TCU – unavailable (family matter)
Isaac Likekele, Oklahoma State – DNP (hand)
Louisville – Aidan Igiehon & Josh Nickelberry DNP again, David Johnson returned (illness), Malik Williams played but it was announced in the second half that his foot injury flared up and did not return
Marquette – Justin Lewis returned (14 pts/21 mins), Oso Ighodaro DNP again, Jamal Cain took an apparent shot to the head later in the 2nd half and was helped off the court
Miles McBride, West Virginia – did not start but played off the bench, has been banged up – 5 pts/23 mins
Miami – Chris Lykes & Harlond Beverly both confirmed out for the season
Minnesota – Gabe Kalscheur (hand) & Liam Robbins (ankle) DNP again
Darryl Morsell, Maryland – GTD on Sunday (shoulder), rested this week
Justin Powell, Auburn – DNP again (conc. prot.) but was at game, has started to work out again
Jeremy Sheppard, Rhode Island – sprained an ankle in the first half, came out of the locker room on crutches
South Carolina – Seventh Woods DNP again (head), Trae Hannibal returned to action – 15 pts/22 mins
Khadim Sy, Ole Miss – DNP again
Jonathan Tchamwa Tchatchoua, Baylor – returned – 2 pts/11 mins
Vanderbilt – Scotty Pippen DNP again (hip bruise, could return next week), Clevon Brown returned & started (knee) – 7 pts/29 mins
VCU – Bones Hyland (foot) & KeShawn Curry (personal) DNP again, Vince Williams left the game with what was called a sprained ankle in postgame, Mikael Brown-Jones is playing with a dislocated finger
Wake Forest – after conflicting pregame info, Jonah Antonio started and Carter Whitt played off the bench
Xavier – Nate Johnson DNP and was declared out for the season (lower leg), Dieonte Miles DNP again
Transfer Updates from Feb 27: