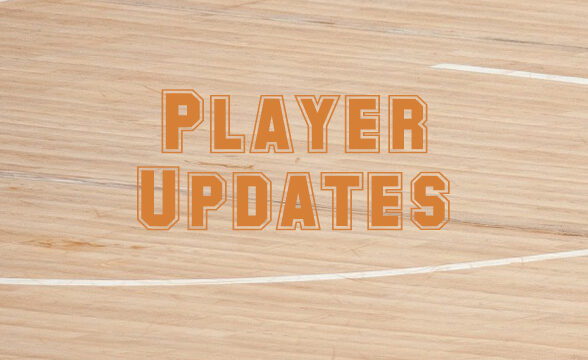 Tweet
On Tuesday newly sitting out were Corey Douglas (VCU) who suffered an ankle injury in practice, Mike Miles (TCU) with non-covid illness, Taz Sherman (West Virginia) after a groin injury in practice, and Bourama Sidibe (Syracuse) due to knee soreness.
Returning to action included KeShawn Curry (VCU), Brendan Medley-Bacon (VCU), Collin Holloway (Georgetown), Avery Benson (Texas Tech) and Braelee Albert (Vanderbilt).
Playing through injuries were Herb Jones (Alabama, back), Kadary Richmond (Syracuse, toothache), Desi Sills (Arkansas, shoulder), Thomas Kithier (Michigan State, illness), and Terrence Shannon (Texas Tech, ankle).
Suffering in-game injuries were Juwan Gary (Alabama) who got the hometown start at South Carolina but left early with a shoulder injury and did not return. He came back out with his arm in a sling.
In injury updates, for LSU Darius Days has a chance to play Wednesday, while teammate Shareef O'Neal has missed practice with a foot issue again. Fabian White (Houston) has been cleared to practice as he returns from ACL surgery, Tristan Maxwell (Georgia Tech) has been cleared to practice (foot), James Bouknight (UConn) is a gametime decision Wednesday, and Isaiah Poor Bear-Chandler (Wichita State) will be available Wednesday. CJ Fredrick (Iowa) is hopeful to play Wednesday, Bryce Thompson (Kansas) may be able to return Thursday, but Jalen Hill (UCLA) is still out for personal reasons.
If you find value from posts like this and the @NCAAFantasyHoop twitter feed, would you consider making a donation through a secure Paypal link on this site to support my work? Donate Here!
(Injuries & Updates in the first section, Transfers down below.)
Injuries and Updates from Feb 9:
Alabama – Jordan Bruner DNP again (knee), Herb Jones started as he deals with back issues – 3 pts/28 mins
Braelee Albert, Vanderbilt – returned to action – 0 pts/6 mins
Isaiah Poor Bear-Chandler, Wichita State – will be available Wed. (personal)
Avery Benson, Texas Tech – returned to action (leg) – 0 pts/5 mins
James Bouknight, UConn – gametime decision for Wednesday (elbow)
KeShawn Curry, VCU – returned to action – 2 pts/14 mins
Corey Douglas, VCU – DNP, boot in pregame from practice ankle injury, should be ready to go in a couple days
Francisco Farabello, TCU – DNP again (calf)
CJ Fredrick, Iowa – hopeful to play Wednesday, needs to be evaluated in practice on Tuesday, likely day to day the rest of the season
Juwan Gary, Alabama – left early in the first half with an apparent shoulder injury and went to the locker room, came back out with arm in a sling
DaJuan Gordon, Kansas State – DNP again but no longer with crutches
Royce Hamm, Texas – DNP, postgame sounded like coach's decision – after the game Hamm tweeted "Loyalty means nothing nowadays!"
Jalen Hill, UCLA – remains out (personal), no timetable for return
Collin Holloway, Georgetown – returned to action (knee) – 2 pts/5 mins
Thomas Kithier, Michigan State – played (illness) – 2 pts/8 mins
LSU – Darius Days has a chance to play Wednesday (ankle), Shareef O'Neal has missed practice the last couple days with foot issue again
Tristan Maxwell, Georgia Tech – cleared to practice again (foot)
Brendan Medley-Bacon, VCU – returned to action – 0 pts/3 mins
Mike Miles, TCU – DNP, non-covid illness
Javon Pickett, Missouri – no update on status after being limited to 2 minutes last game after ankle injury
Justin Powell, Auburn – DNP again (concussion)
Terrence Shannon, Texas Tech – played after being limited/rested last game (ankle) – 13 pts/23 mins
Taz Sherman, West Virginia – DNP, in pregame was said to be a GTD with a groin injury
Desi Sills, Arkansas – played after shoulder injury last game – 2 pts/10 mins
Moulaye Sissoko, Dayton – DNP again (injury)
Scott Spencer, VCU – DNP again (lower body)
Syracuse – Kadary Richmond was said to be questionable by the team in pregame with non-covid illness (a toothache) but played (8 pts/25 mins) & Bourama Sidibe DNP (knee soreness)
Bryce Thompson, Kansas – returned to practice (finger), may be able to play Thursday
Fabian White, Houston – cleared to practice (ACL)
Jaylin Williams, Arkansas – was said to potentially be limited – 9 pts/23 mins
Transfer Updates from Feb 9: