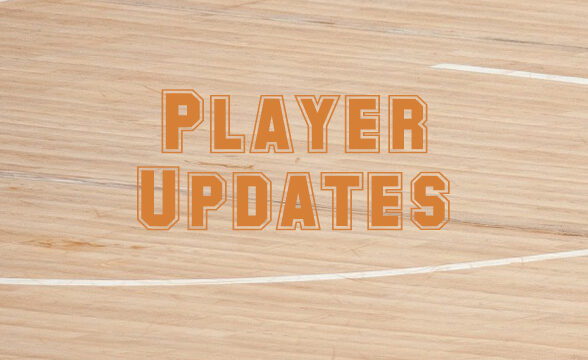 Tweet
On Sunday Quentin Grimes returned to action for Houston, Isaac Bonton returned for Washington State, and Zane Meeks was back for Nevada.
Justin Lewis (Marquette) sat out with a leg injury, DJ Funderburk (NC State) was out due to "university policy", Bryce Hamilton (UNLV) sat with an ankle injury, and TJ Bamba (Washington State) was inactive with an illness.
Sitting out again on Sunday were Gabe Brown (Michigan State), Darius McNeill (SMU), Jimmy Sotos (Ohio State), Greg Williams (St John's), and Bourama Sidibe (Syracuse).
In injury updates, Austin Reaves & Alondes Williams will not play again Monday for Oklahoma due to covid protocols (but Reaves is out due to contact tracing and should be available on Saturday), Bubba Parham (Georgia Tech) will play Monday, Gabe Brown (Michigan State) is likely out another week due to covid, and Bourama Sidibe (Syracuse) has a chance to play on Wednesday.
If you find value from posts like this and the @NCAAFantasyHoop twitter feed, would you consider making a donation through a secure Paypal link on this site to support my work? Donate Here!
(Injuries & Updates in the first section, Transfers down below.)
Injuries and Updates from Jan 31:
TJ Bamba, Washington State – DNP, non-covid illness
Marcus Bingham, Michigan State – in pregame was said to be dealing with an ankle issue – 4 pts/8 mins
Isaac Bonton, Washington State – returned to action as a starter – 25 pts/38 mins
Gabe Brown, Michigan State – DNP again (covid), likely out another week
DJ Funderburk, NC State – DNP, "university policies", was at the game but in postgame the team did not have a timetable for return
Quentin Grimes, Houston – returned as a starter (ankle) – 6 pts/27 mins
Bryce Hamilton, UNLV – DNP, ankle, is day to day, quest. for Tuesday
Joey Hauser, Michigan State – in pregame was said to be a GTD (ankle) but started – 11 pts/34 mins
Cam Hayes, NC State – started with Devon Daniels out for the season – 1 pt/18 mins
Justin Lewis, Marquette – DNP, leg
Darius McNeill, SMU – DNP again (foot), in a walking boot
Zane Meeks, Nevada – returned to action – 14 pts/18 mins
Oklahoma – Austin Reaves & Alondes Williams will be out again Monday due to covid protocols, Reaves is due to contact tracing and he is expected to be available on Saturday
Elijah Olaniyi, Miami – gametime decision Monday (shoulder, early Monday morning update)
Bubba Parham, Georgia Tech – confirmed to be playing Monday (early Monday morning update)
Everett Ray, SMU – returned to action – 0 pts/2 mins
Jimmy Sotos, Ohio State – DNP again (shoulder)
Syracuse – Bourama Sidibe warmed up but DNP again, might play Wednesday, Frank Anselem DNP again
Greg Williams, St John's – DNP again (back), but did dress
Transfer Updates from Jan 31: