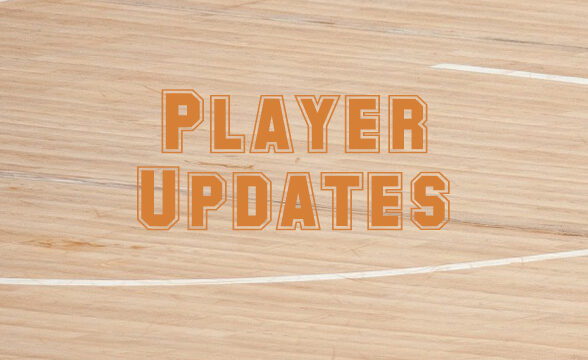 Tweet
Suffering in-game injuries were Joel Ayayi (Gonzaga) who took a shot to the mouth/head in the first half but was able to return. Johnny Juzang (UCLA) left the game in the second half after turning the same ankle he's had late-season issues with, got his ankle taped, and returned to the game.
Notables remaining out included Isaiah Livers (Michigan).
Notable names in the transfer portal from more major conferences included Braxton Beverly (NC State), Kadary Richmond (Syracuse), Jeriah Horne (Colorado), Marcus Weathers (Duquesne), RayJ Dennis (Boise State), Trey Wade (Wichita State), Ray Salnave (DePaul), Omar Payne (Florida), Kobe Elvis (DePaul), William Douglas (SMU), Trae Hannibal & Jalyn McCreary (South Carolina), Justin McKoy (Virginia), Tristan Enaruna (Kansas), & Patrick Tape (Duke).
Other potential impact transfers included Michael Flowers (South Alabama, 21.0 ppg), Malik Curry (Old Dominion, 15.7 ppg), Ayo Akinwole (Omaha, 13.0 ppg), & John Pettway (South Alabama, 10.7 ppg).
Announcing transfer destinations were Mark Smith (Missouri to Kansas State), Markquis Nowell (Little Rock to Kansas State), Braxton Beverly (NC State to Eastern Kentucky), Al Durham (Indiana to Providence), Jamari Wheeler (Penn State to Ohio State), Jalen Gibbs (Mt St Mary's to Jacksonville St), Anderson Kopp (Lamar to UMKC), & John Newman (Clemson to UNC Greensboro).
If you find value from posts like this and the @NCAAFantasyHoop twitter feed, would you consider making a donation through a secure Paypal link on this site to support my work? Donate Here!
(Injuries & Updates in the first section, Transfers down below.)
Injuries and Updates from Mar 30:
Justin Bean, Utah State – will return next season
Isaiah Livers, Michigan – DNP again (foot)
LSU – Cam Thomas, Darius Days. Javonte Smart & Trendon Watford are all expected by Will Wade to leave
Syracuse – Joe Girard & Buddy Boeheim are expected to return next season
Transfer Updates from Mar 30:
Ayo Akinwole, Omaha – enters portal – 13.0 ppg
Riley Battin, Utah – removes name from portal – 6.6 ppg
Braxton Beverly, NC State – enters portal (GT), will transfer to Eastern Kentucky – 7.0 ppg
Jett Canfield, Creighton – enters portal – 0.1 ppg
Ed Chang, Missouri – enters portal
Charles Coleman, East Carolina – enters portal – 0.8 ppg
Kenny Cooper, Western Kentucky – enters portal (GT) – 2.6 ppg
Malik Curry, Old Dominion – enters portal – 15.7 ppg
RayJ Dennis, Boise State – enters portal – 8.6 ppg
William Douglas, SMU – enters portal (GT) – 3.5 ppg
Emmanuel Dowuona, Purdue – enters portal
Al Durham, Indiana – grad transfers to Providence – 11.3 ppg
Keon Edwards, DePaul – enters portal – 1.8 ppg
Kobe Elvis, DePaul – enters portal – 5.2 ppg
Tristan Enaruna, Kansas – enters portal – 2.8 ppg
Michael Flowers, South Alabama – enters portal (GT) – 21.0 ppg
Anyang Garang, Oklahoma – enters portal – 0.8 ppg
Jalen Gibbs, Mt St Mary's – transfers to Jacksonville St – 16.5 ppg
Trae Hannibal, South Carolina – enters portal – 6.0 ppg
Joe Hedstrom, Wisconsin – enters portal – 0.4 ppg
Jeriah Horne, Colorado – enters portal – 10.8 ppg
Kuba Karwowski, Utah State – enters portal (GT) – 0.5 ppg
Anderson Kopp, Lamar – transfers to UMKC – 10.4 ppg
Kolby Lee, BYU – will enter transfer portal – 3.7 ppg
Wyatt Lowell, BYU – enters portal – 2.0 ppg
Jalyn McCreary, South Carolina – enters portal – 5.1 ppg
Justin McKoy, Virginia – enters portal – 3.5 ppg
Brendan Medley-Bacon, VCU – enters portal – 0.5 ppg
Martice Mitchell, Minnesota – enters portal – 1.3 ppg
John Newman, Clemson – transfers to UNC Greensboro – 3.7 ppg
Markquis Nowell, Little Rock – transfers to Kansas State – 14.3 ppg
Omar Payne, Florida – enters portal – 3.8 ppg
John Pettway, South Alabama – enters portal (GT) – 10.7 ppg
Kadary Richmond, Syracuse – enters portal – 6.3 ppg
Ray Salnave, DePaul – enters portal (GT) – 6.3 ppg
Mark Smith, Missouri – will transfer to Kansas State – 9.7 ppg
Patrick Tape, Duke – enters portal (GT) – 1.1 ppg
Trey Wade, Wichita State – enters portal – 6.3 ppg
Marcus Weathers, Duquesne – enters portal (GT) – 15.3 ppg
Jamari Wheeler, Penn State – transfers to Ohio State – 6.8 ppg