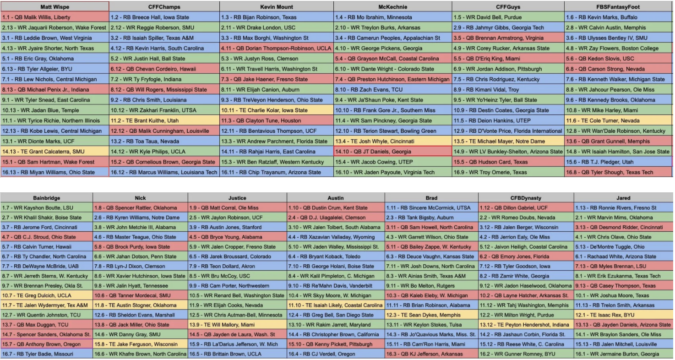 Tweet
With the start of the season on the horizon let's take a look at some results from a mock draft I took part in back a month or two ago. It was a 13 team draft full of some great leaders from the CFF community in which I (FBSFantasyFoot) picked 6th – you can see the full results in the graphic above (along with the list of teams who took part – you might need to zoom in to see it better). The Part 1 article analyzed my picks round by round, whereas this time I'll share some general draft takeaways to help you start thinking about your own draft as well some players and trends that stood out to me.
Round 1 – QB Malik Willis (Liberty) being the 1st player off the board was not a big surprise, but the next QB was not taken until 1.8 Spencer Rattler (Oklahoma). Of the 13 first round picks, 5 were QBs, 6 were RBs, and just 2 were WRs (David Bell, Purdue & Kayshon Boutte, LSU).
Round 2 – Clemson & Alabama are both replacing their QBs this season, with Clemson's DJ Uiagalelei going 2.4 with Alabama's Bryce Young falling to 4.5. I personally think Young fell too far here, but with Uigalelei getting more reps last season while Trevor Lawrence missed some time there may be a touch more familiarity with what to expect from him.
Round 3 – Every draft has it's own ebb and flow, but I found it interesting that 8 of the 13 round 3 picks were RBs, including the first four picks of the round and 6 of the first 7. Max Borghi (Washington State) is interesting at 3.3 after missing most of last season due to injury, so it's still to be seen what to expect of him in Nick Rolovich's offense.
Round 4 – Three Ohio State players came off the board this round, WR Chris Olave, WR Garrett Wilson, & QB CJ Stroud. While Stroud is not technically locked in as QB1 for Ohio State yet, I like the value of either Olave or Wilson in round 4.
Round 5 – An interesting mix of 5 QBs in round 5 – Grayson McCall (Coastal Carolina), Brock Purdy (Iowa State) & Kedon Slovis (USC) represent the proven talent, D'Eriq King (Miami) has all the potential in the world if his ACL is healthy and he is back to full-go, and Bailey Zappe (Western Kentucky) is a transfer likely to be QB1 in what is expected to be a newly high-powered WKU offense.
Round 6 – I like BYU RB Tyler Allgeier at the end of round 6, he ran for 1130-13 last season and with QB Zach Wilson gone I think Allgeier may become the centerpiece of this offense next season as they break in some new starters.
Round 7 – Several RB picks that intrigue me, Lyn-J Dixon looks to become the featured back at Clemson with Travis Etienne departed, Lew Nichols (Central Michigan) looks to build upon a 508 yard, 6.5 yard per carry season, and DeWayne McBride (UAB) should be the featured back with Spencer Brown departed after a 9.3 average on 47 attempts last season.
Round 8 – Mississippi State QB Will Rogers at 8.12 is intriguing to me. For a long time I've been a proponent of taking a Mike Leach QB high in the draft (and a returning Leach QB even higher) but Miss. State was such a trainwreck last season, so this feels about right with the hopes that Leach now has been able to mold the roster more to his liking and that Rogers will beat out Southern Miss transfer Jack Abraham.
Round 9 – Appeared to be the round where a number of owners started going for a little more unexpected players who they hope will have breakout seasons, which makes sense past the halfway point in the draft. I think Oklahoma RB Kennedy Brooks (full disclosure, I took him) and Ball State WR Yo'Heinz Tyler represent good value amongst better-known returning players.
Round 10 – If you are trying to gauge when TEs will come off the board (although each league will be different based upon rounds & teams), Round 10 saw the first TEs come off the board, Greg Dulcich (UCLA, 517 receiving yards and a 19.9 avg, easily their top receiver) and Charlie Kolar (Iowa State).
Round 11 – Another 5 TEs were taken in Round 11 as the run happened, although none were Arik Gilbert, as news came after this draft that he was transferring from LSU to Georgia, where he may play a hybrid WR/TE type role. Gilbert was listed as a WR on the Georgia roster, so pay attention to your league to see what position availability he may have.
Round 12 – Two running backs from the state of Florida look like nice picks this round, Bentavious Thompson (UCF) is the hopeful RB1 for this explosive offense although several transfers are in the mix, and D'Vonte Price (Florida International) was the only real bright spot for FIU last season as he ran for 85/581-4, a 6.8 average.
Round 13 – Arizona State QB Jayden Daniels came off the board middle of the round, after a superb freshman year he appeared more ordinary as he only played in 4 games in 2020 (701-5 passing, 223-4 rushing), if he rebounds then 13th round could be a steal.
Round 14 – Florida State RB Jashaun Corbin was drafted here, while Corbin may share time in the backfield with Lawrance Toafili I think there is nice potential in the FSU run game, especially with La'Damian Webb departed. Former Oklahoma TE Grant Calcaterra who is now at SMU also has my attention.
Round 15 – If you are looking to see who some of the QBs who were seen as worth drafting but not high-round picks, five QBs came off the board here, four of whom are fairly safe picks – Sam Hartman (Wake Forest), Cornelious Brown (Georgia State), Hudson Card (Texas), Anthony Brown (Oregon) and Kenny Pickett (Pitt). Card will need to beat out Casey Thompson at Texas.
Round 16 – As expected, a number of less proven players were taken in the final round, but one proven returning player who I thought was good value was BYU WR Gunner Romney (39/767-2). While BYU has to replace QB Zach Wilson, WR Dax Milne has also departed, meaning Romney might really be the featured WR for a new signal-caller.