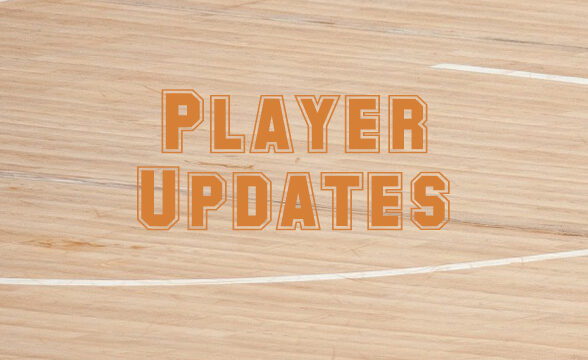 Tweet
The daily player update post as well as some other content will move to a premium content level on Nov. 1, to become a subscriber click Subscribe.
The Core Four – four key updates from Oct 27-28
Saint Louis wing Javonte Perkins tore the ACL in his left knee in an exhibition game Tuesday night and is out for the season. Perkins was the Billikens leading scorer last season with 17.1 ppg and also added 3.9 rebounds a game, starting all 21 games they played. Perkins was second-team all-conference last season and was using his extra season of eligibility.
Syracuse F/C Bourama Sidibe will miss around a month with a knee injury suffered around two weeks ago. He was going to try to return to practice but was then ruled out. This is to the other knee than he dealt with an injury last season, when he was limited to only playing two games. In '19-20 he started all 32 games averaging 6.0 ppg.
Vanderbilt C Liam Robbins remains limited in practice with a foot injury, but is hopeful to be full-go by the third week of November. Robbins, a Minnesota transfer who averaged 11.7 ppg for the Gophers last season, figures to be the Commodores starting center when healthy, but Quentin Millora-Brown may fill in until Robbins returns.
Florida State's Anthony Polite, Cam'Ron Fletcher, & Naheem McLeod did not dress for the Thursday exhibition. Polite was mentioned to have a minor injury (hyperextension) and all three are hopeful to return for the next exhibition. Polite averaged 10.1 ppg last year, Fletcher is a transfer from Kentucky, and McLeod is a 7 foot 4 juco center.
Notable names in the transfer portal included Blake Hinson (Iowa State).
Announcing transfer destinations were Jason Douglas-Stanley (Manhattan to Northwestern Oklahoma State), and Eric Parrish (UTSA to Grambling).
(Injuries & Updates in the first section, Transfers down below.)
Injuries and Updates from Oct 27-28:
Posh Alexander, St John's – is active this fall and played in the scrimmage last Friday and started the scrimmage on Wednesday (thumb surgery in spring)
Thomas Allen, NC State – is fully healthy this fall after an ankle injury ended his season last spring
Buddy Boeheim, Syracuse – tweaked his ankle in the Wednesday night exhibition, could have returned but held him out, expects to practice Friday and play in Monday exhibition
John Bol Ajak, Syracuse – did not play in Wednesday exhibition due to minor ankle injury in practice
Keyshawn Bryant, South Carolina – is still nursing a sore knee in practice
Robby Carmody, Notre Dame – was hopeful to return by October 1 but was not seen at a mid-October practice (knee)
Peyton Daniels, Vanderbilt – did not practice Wednesday due to disciplinary reasons, will be back in the mix soon
Dayton – Malachi Smith & Zimi Nwokeji have returned to practice
Florida State – Anthony Polite, Cam'Ron Fletcher, & Naheem McLeod did not dress for the Thursday exhibition
Matt Garry, UConn – took part in a recent scrimmage after missing last season (returned from ACL)
Tyrin Lawrence, Vanderbilt – has returned to practice (ACL)
NC State – Manny Bates and Greg Gantt did not play in last Saturday's scrimmage, no reason shared
Javonte Perkins, Saint Louis – is out for the season with a torn ACL in his left knee suffered in Tuesday night's exhibition
Liam Robbins, Vanderbilt – still not fully practicing (foot), is on track to be back practicing by the first week of November and full-go by the third week of November
Bourama Sidibe, Syracuse – will be out around a month with a knee injury, the injury happened around two weeks ago and he was going to try to return to practice Tuesday but then the setback was reported, this is not the same leg that kept him almost all out last season
Tolu Smith, Miss State – has progressed to light jogging in practice (foot), anticipated return is still late November
Cole Swider, Syracuse – returned to action (ankle) Wednesday night after sitting out the scrimmage last Friday
Myles Tate, Butler – did not scrimmage Saturday, is progressing (ACL surgery in March)
Seth Towns, Ohio State – targeting a mid-late December return (back surgery)
Drissa Traore, St John's – the team is considering redshirting the freshman forward this season
Jahlil White, Temple – is practicing this fall (knee)
Noah WIlliams, Washington State – after facing misdemeanor charges in September, coach Kyle Smith said Williams had missed some time recently (for reasons he could not disclose) but would be with the team for the opener
Wisconsin – freshmen guards Lorne Bowman (lower body) and Chucky Hepburn (upper body) are back at practice
Transfer Updates from Oct 25-26:
Jason Douglas-Stanley, Manhattan – transfers to Northwestern Oklahoma State
Blake Hinson, Iowa State – entered the transfer portal after recently leaving the team
Eric Parrish, UTSA – transfers to Grambling – 6.5 ppg
See For Yourself: