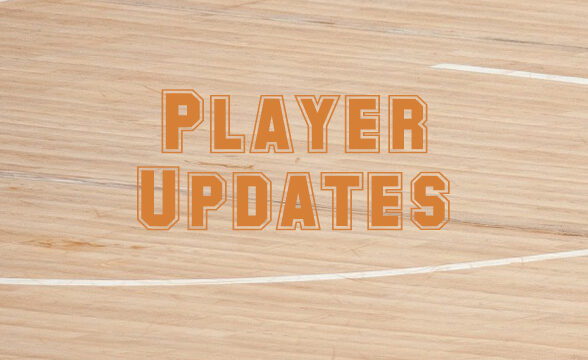 Tweet
Returning to action on Friday included Richard Washington (San Jose State), Yuri Collins (Saint Louis), Devonaire Doutrive (Boise State), and Kaison Hammonds (San Jose State).
On Friday newly sitting out were usual starters Luka Brajkovic & Sam Mennenga for Davidson, unclear if this was just rest against a lower division opponent or something else (covid-related?) as they came off pause.
Notables remaining out included Rollie Worster (Utah State).
In injury updates, Jeremiah Tilmon (Missouri) will play Saturday, Liam Robbins (Minnesota) is hopeful for Saturday while teammate Gabe Kalscheur will be out 3-4 weeks after finger surgery, Chris Lykes (Miami) is out Saturday, Damian Dunn (Temple) will be a GTD Sunday, Jordan Bruner (Alabama) may be ready for Wednesday, Bryan Griffin (Xavier) is questionable for Sunday, and Francisco Farabello (TCU) is likely done for the season.
For South Carolina, Justin Minaya is questionable while Jermaine Couisnard sounds doubtful for Saturday, Ryan Daly (St Joe's) may be ready to return Saturday but teammate Jack Forrest remains out, Malik Williams (Louisville) is expected to make his season debut Saturday, Tyler Polley (UConn) is a gametime decision but sounds likely to play, and Isaac Likekele (Oklahoma State) is probable for Monday.
If you find value from posts like this and the @NCAAFantasyHoop twitter feed, would you consider making a donation through a secure Paypal link on this site to support my work? Donate Here!
(Injuries & Updates in the first section, Transfers down below.)
Injuries and Updates from Feb 19:
Jordan Bruner, Alabama – hopeful to return next Wed. (knee)
Yuri Collins, Saint Louis – returned off the bench – 3 pts/23 mins
Davidson – Luka Brajkovic & Sam Mennenga DNP against Southern Virginia, unclear if they were just being rested against a lesser opponent or if they sat for some other reason (covid-related?)
Devonaire Doutrive, Boise State – returned to action (dental) – 3 pts/14 mins
Damian Dunn, Temple – was limited in practice Friday, GTD for Sunday
Francisco Farabello, TCU – expected to miss the rest of the season (calf)
Bryan Griffin, Xavier – has not returned to practice yet, questionable for Sunday (covid protocols)
Kaison Hammonds, San Jose State – returned to action – 0 pts/4 mins
Mikael Jantunen, Utah – will be flying back to the US Sunday after playing for the Finnish national team, will quarantine upon return
Gabe Kalscheur, Minnesota – expected to be out 3-4 weeks after finger surgery
Isaac Likekele, Oklahoma State – expected to be ready Monday (foot)
Louisville – Games Notes said that multiple scholarship players will miss Saturday's game for covid-related reasons, but later in the day Chris Mack said everyone practiced Friday except Aidan Igiehon, but unclear who will be available in apparent power struggles around covid protocols between medical groups (?), Malik Williams will make his season debut Saturday (foot)
Chris Lykes, Miami – has not been practicing, is out Saturday (ankle), may not be able to return this season
Tyler Polley, UConn – called a GTD (knee) but likely to be able to play
Justin Powell, Auburn – has not yet been cleared to practice (concussion)
Liam Robbins, Minnesota – won't practice Friday with sprained ankle he has been playing with, hopeful to play Saturday
Moulaye Sissoko, Dayton – DNP again
Saint Joseph's – game notes list Jack Forrest & Myles Douglas as out with leg injuries, Ryan Daly does not have an injury designation, may be ready to return from hand/thumb injury
South Carolina – Justin Minaya (concussion) is questionable for Saturday, Jermaine Couisnard (ankle) does not sound expected to play
Devin Tillis, UNLV – first start of the season – 14 pts/24 mins
Jeremiah Tilmon, Missouri – is back with the team (personal) and will play Saturday
Richard Washington, San Jose State – returned as a starter (head)
Rollie Worster, Utah State – DNP again (lower leg)
Transfer Updates from Feb 19: