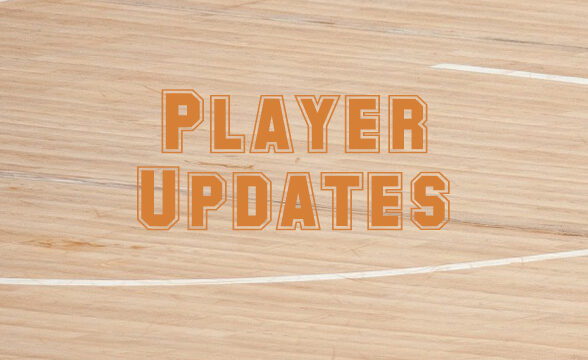 Tweet
In injury updates, Sharife Cooper (Auburn) is doubtful for Saturday, David Johnson (Louisville) is expected to play Saturday, Isaac Likekele (Oklahoma State) has been limited in practice with a hand injury, Ayo Dosunmu (Illinois) is out Saturday, Jack Nunge (Iowa) is out for the season with a knee injury, and Foster Loyer (Michigan State) sounds unlikely to play again this season.
On Friday newly sitting out were David DeJulius (Cincinnati) who has opted out, Zane Meeks (Nevada) with an ankle injury, and Markhi Strickland (Saint Louis) due to covid protocols.
Playing through injury was Grant Golden (Richmond) who wore a large brace on his left hand after a finger fracture last game.
Notables remaining out included Matthew Moyer (George Washington) & Rollie Worster (Utah State).
If you find value from posts like this and the @NCAAFantasyHoop twitter feed, would you consider making a donation through a secure Paypal link on this site to support my work? Donate Here!
(Injuries & Updates in the first section, Transfers down below.)
Injuries and Updates from Feb 26:
Sharife Cooper, Auburn – doubtful for Saturday (ankle)
David DeJulius, Cincinnati – DNP, opted out of season on Thursday
Ayo Dosunmu, Illinois – TBD whether he will travel for Saturday game (as of mid-day Friday), early Saturday morning reported out
George Washington – Matthew Moyer & Sloan Seymour DNP again
Grant Golden, Richmond – started after fracturing finger last game, wearing a large brace on his left hand – 10 pts/30 mins
Christian Gray, Fresno State – DNP again (shoulder)
Gibson Jimerson, Saint Louis – did not start for the first time this season – 0 pts/10 mins
David Johnson, Louisville – expected to play Saturday (illness)
Isaac Likekele, Oklahoma State – has been limited in practice with a hand injury suffered last game
Foster Loyer, Michigan State – no final decision yet on shoulder but sounds unlikely to return this season
Zane Meeks, Nevada – DNP, ankle, game to game
Brock Miller, Utah State – started, appeared in pain/limited with back issues at the end of the first half, played in the second half, was briefly seen wearing a medical back brace on the sideline – 10 pts/30 mins
Jack Nunge, Iowa – will miss the rest of the season with a knee injury suffered Thursday night, will have surgery and be out 4-6 months
Markhi Strickland, Saint Louis – DNP, covid protocols
Rollie Worster, Utah State – DNP again (lower leg), still in boot, Alphonso Anderson got his first start of the season – 10 pts/26 mins
Solomon Young, Iowa State – says he will pursue a pro career after this season, will not return
Transfer Updates from Feb 26:
Amari Davis, Green Bay – enters transfer portal – 17.2 ppg
Josh Jefferson, Green Bay – enters transfer portal – 14.8 ppg