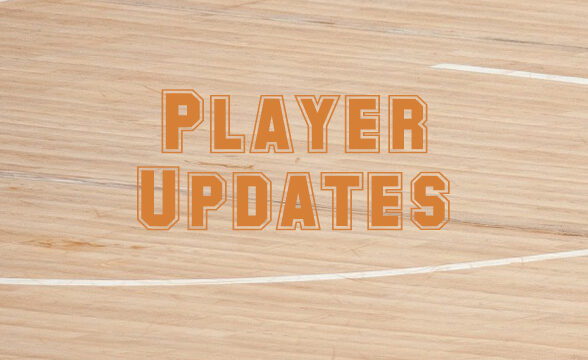 Tweet
On Monday newly sitting out were Jamarius Burton (Texas Tech) with a toe tendon injury, and Isaiah Mobley (USC) with a strained calf muscle.
Returning to action was Isaac Likekele (Oklahoma State) after missing two games with foot issues.
In injury updates, Bones Hyland (VCU) is out Tuesday, Noah Fernandes & Tre Mitchell (UMass) are expected to play, Tomas Woldetensae (Virginia) will remain out Wednesday, Foster Loyer (Michigan State) is out again Tuesday, Josh Nickelberry (Louisville) is not expected to play Tuesday, Marcus Bagley (Arizona State) is a gametime decision Tuesday while teammates Josh Christopher sounds doubtful and Jalen Graham missed practice with a migraine.
Jalen Cone (Virginia Tech) and Greg Williams (St John's) are probable for Tuesday, and for Utah Rylan Jones sounds doubtful for Thursday while Mikael Jantunen is quarantining after returning from playing with the national team of Finland, but unclear when he will Finnish quarantine (haha, terrible, I know).
If you find value from posts like this and the @NCAAFantasyHoop twitter feed, would you consider making a donation through a secure Paypal link on this site to support my work? Donate Here!
(Injuries & Updates in the first section, Transfers down below.)
Injuries and Updates from Feb 22:
Arizona State – Marcus Bagley (ankle) sounds like a gametime decision Tuesday, Josh Christopher (back) has no specific timetable for return, Jalen Graham did not practice Monday due to a migraine, Remy Martin was limited in practice due to soreness and Alonzo Verge was limited with a thigh bruise, Martin and Verge sound more like the team was just trying to manage their rest/workloads, but all should be monitored
Jamarius Burton, Texas Tech – DNP, toe tendon, day to day
Juwan Gary, Alabama – returned to practice, still questionable, b ut if not ready this week then should be next week (shoulder)
Bones Hyland, VCU – sprained foot, out Tuesday, day to day
Musa Jallow, Ohio State – ankle is day to day
Mikael Jantunen, Utah – is quarantining after returning from international play, team does not yet have timeline for return
Rylan Jones, Utah – shoulder improving but sounds doubtful for Thurs.
Isaac Likekele, Oklahoma State – returned to action off the bench (foot) – 2 pts/33 mins (OT)
Foster Loyer, Michigan State – remains out Tuesday (shoulder), could possibly return Thursday
Sterling Manley, UNC – still limited in practice, not expected to be a factor in games this season, could possibly see time
Glen McClintock, Air Force – DNP, only played 2 minutes off the bench last game after starting most of the season – not sure what's up here.
Isaiah Mobley, USC – DNP, strained calf muscle last game, day to day
Terrence Shannon, Texas Tech – played after being limited in recent games – 18 pts/38 mins (OT)
Moulaye Sissoko, Dayton – had knee surgery, out for the season
Au'Diese Toney, Pitt – getting better, will not practice Monday (concussion)
UMass – everyone is back at practice and should be ready to go (except Dibaji Walker), meaning Tre Mitchell (shoulder), Noah Fernandes (wrist) & Javohn Garcia (eye) are expected to play Tuesday
Virginia Tech – Tyrece Radford's status is still uncertain as he returns from suspension, Jalen Cone will play Tuesday (Tuesday morning update), has a splint for his ankle
Greg Williams, St John's – has practiced & is expected to play Tues (back)
Tomas Woldetensae, Virginia – will be out again Wed. (contact tracing)
Transfer Updates from Feb 22:
David Walker, South Alabama – transferring to Cal State Bakersfield – 10.8 ppg