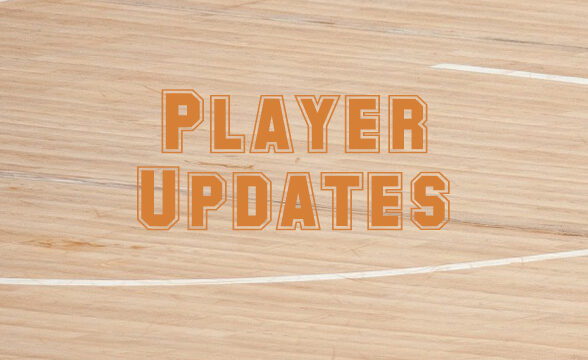 Tweet
On Saturday newly sitting out were Harlond Beverly (Miami) with a back injury, Clevon Brown (Vanderbilt) after dealing with a knee issue on Wednesday, Au'Diese Toney (Pitt) due to a concussion from a car accident, Joel Brown (Cal) with a lower leg injury, Anthony Longpre (St Joe's) undisclosed, Foster Loyer (Michigan State) as expected to let his shoulder heal, and Tomas Woldetensae (Virginia) due to contact tracing.
Returning to action included Ryan Daly (St Joe's), Jordan Bruner (Alabama), Jeremiah Tilmon (Missouri), Justin Minaya (South Carolina), Charlie Moore & Oscar Lopez (DePaul), Eric Williams (Oregon), Khadim Sy (Ole Miss), Anthony Harris (UNC), Maceo Austin (Duquesne), Aguek Arop (San Diego State), Ebenezer Dowuona (NC State), and Jermaine Hamlin (Illinois).
Malik Williams (Louisville) made his season debut after foot surgery.
Playing through injuries were Jordan Usher (Georgia Tech, ankle), Tyler Polley (UConn, knee), Cormac Ryan (Notre Dame, ankle), and Liam Robbins (Minnesota, ankle).
Suffering in-game injuries were Nah'Shon "Bones" Hyland (VCU) who had to be carried off the court with two minutes remaining in the second half with an apparent right ankle injury and did not return, was described as a sprained foot in postgame. Greg Williams (St John's) missed much of the second half and in postgame it was shared he had encountered back issues again which limited him. Late in their game Louisville's Dre Davis got banged up and was reported as having a thigh bruise. Leaving their games for a time but returning to action included Darius Days (LSU), and Michael Hughes (Duquesne).
Notables remaining out included Jermaine Couisnard (South Carolina), Josiah-Jordan James (Tennessee), Isaac Bonton & Ryan Rapp (Washington State), Thomas Allen (NC State), Javon Freeman-Liberty (DePaul), Mikael Jantunen & Rylan Jones (Utah), and Marcus Bagley & Josh Christopher (Arizona State).
In injury updates, Bryce Aiken (Seton Hall) was described in postgame today as out indefinitely, and Harlond Beverly (Miami) was listed as out indefinitely when he did not play due to a lingering back injury Saturday. On the St Joe's broadcast Jack Forrest & Myles Douglas were said to be out for the season with leg injuries.
If you find value from posts like this and the @NCAAFantasyHoop twitter feed, would you consider making a donation through a secure Paypal link on this site to support my work? Donate Here!
(Injuries & Updates in the first section, Transfers down below.)
Injuries and Updates from Feb 20:
Bryce Aiken, Seton Hall – DNP again (knee), out indefinitely
Alabama – Jordan Bruner returned to action (knee) 1 pt/19 mins, Juwan Gary warmed up, DNP again
Thomas Allen, NC State – DNP again (lower leg)
Arizona State – Pavlo Dziuba & Josh Christopher DNP again (back), Marcus Bagley warmed up but DNP again (ankle)
Aguek Arop, San Diego State – returned to action (vertigo) – 4 pts/7 mins
Harlond Beverly, Miami – DNP, back injury, out indefinitely
Clevon Brown, Vanderbilt – DNP, resting a sprained knee from last game
Joel Brown, Cal – DNP, lower leg
Dre Davis, Louisville – suffered a lower body injury later in the game which was shared to be a thigh bruise
Darius Days, LSU – left the game in the first half with lower body injury, returned to action – 17 pts/22 mins
DePaul – Javon Freeman-Liberty (concussion) DNP again, Oscar Lopez returned to action (knee) – 10 pts/20 mins, Charlie Moore returned off the bench (knee) – 24 pts/32 mins
Ebenezer Dowuona, NC State – returned to action – 0 pts/2 mins
Duquesne – Maceo Austin returned to action (personal) – (0 pts/20 mins), Ryan Murphy DNP again, Michael Hughes left the game in the 2nd half with an apparent right leg issue, returned to the game – 20 pts/33 mins
Georgia Tech – Tristan Maxwell DNP again, Jordan Usher started (ankle) – 8 pts/26 mins
Jermaine Hamlin, Illinois – returned to action (ankle) – 1 pt/7 mins
Jalen Hill, UCLA – DNP again (personal)
Bones Hyland, VCU – left with 2 minutes remaining in the 2nd half with an apparent right ankle injury and did not return, called a sprained foot
Iowa State – Javan Johnson & Jaden Walker both started but did not play in the second half, in postgame it essentially was said they need to be better and were benched
Josiah-Jordan James, Tennessee – warmed up but was not able to go, DNP again (wrist)
Louisville – Aidan Igiehon & Josh Nickelberry DNP again, Malik Williams made his season debut (foot) – 4 pts/17 mins
Foster Loyer, Michigan State – DNP, shoulder
Chris Lykes, Miami – DNP again (ankle)
Minnesota – Gabe Kalscheur – DNP again (hand), Liam Robbins started but was limited (ankle) – 0 pts/13 mins
North Carolina – Sterling Manley & Puff Johnson DNP again, Anthony Harris returned to action (concussion) – 6 pts 11 mins
Shareef O'Neal, LSU – DNP again (foot)
Tyler Polley, UConn – played (knee) – 3 pts/26 mins
Justin Powell, Auburn – DNP again (concussion)
Cormac Ryan, Notre Dame – played off bench (ankle) – 6 pts/15 mins
South Carolina – Jermaine Couisnard DNP again, Justin Minaya returned to action off the bench (head) – 5 pts/27 mins
Scott Spencer, La Salle – DNP again
St Joes – Greg Foster & Jack Forrest (leg) DNP again, Myles Douglas DNP (leg), broadcast said Foster, Forrest & Douglas are out for the season, Anthony Longpre DNP (broadcast shared he was unavailable, undisclosed), Ryan Daly returned as a starter (thumb) – 30 pts/39 mins
Khadim Sy, Ole Miss – returned to action (knee) – 3 pts/7 mins
Jeremiah Tilmon, Missouri – returned off the bench (personal) – 17 pts/21 mins
Au'Diese Toney, Pitt – DNP, concussion in a Thursday car accident
Utah – Mikael Jantunen DNP again (national team), Rylan Jones DNP again (shoulder)
Jabari Walker, Colorado – DNP again (foot)
Washington State – Tony Miller (personal) & Isaac Bonton (ankle) DNP again, Ryan Rapp warmed up but DNP again (leg)
Eric Williams, Oregon – returned to action (knee) – 7 pts/25 mins
Greg Williams, St John's – appeared to aggravate/be limited by his back injury, in postgame was said he "had some issues with his back" – 3 pts/10 mins
Tomas Woldetensae, Virginia – DNP, covid protocols
Transfer Updates from Feb 20: