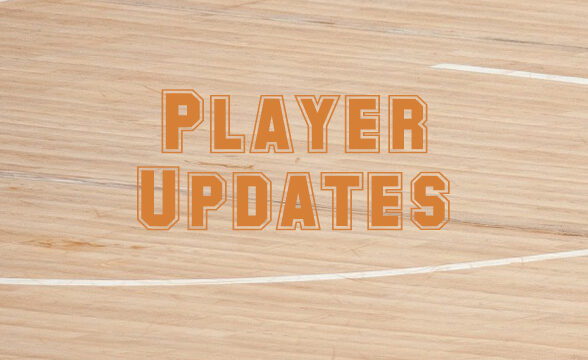 Tweet
On Sunday newly sitting out were Butler's Aaron Thompson (thumb, shoulder) and Bo Hodges (calf), Musa Jallow (Ohio State) with an ankle injury last game, Ralph Agee (San Jose State), Dieonte Miles (Xavier) with knee issues, and Matthew Moyer, Chase Paar & Sloan Seymour (George Washington) for undisclosed reasons after a long team pause (covid-related?).
Returning to action included Jamison Battle (George Washington), Michael Durr (South Florida), and Sam Mennenga, Luka Brajkovic & Nelson Boachie-Yiadom (Davidson).
Making season debuts were Daniel Ramsey (Xavier) after missing most of last season and all of this season so far with injuries and Walt McGrory (Wisconsin) after hip surgery.
Suffering in-game injuries were Darryl Morsell (Maryland) who left the game in the first half grabbing his shoulder, went to the locker room, and quickly returned to the game wearing a shoulder sleeve, then left again with 4 minutes left in the second half, in postgame it was confirmed it partially popped out twice and he will see a specialist. Dominick Welch (St Bonaventure) left the game in the first half with an ankle issue, was seen riding a bike on the sideline and was able to return to the game. Jacob Young (Rutgers) landed awkwardly on his leg and stayed down for a while in the final minute of the game.
Notables remaining out included Damian Dunn (Temple), Bryce Nze (Butler) Trevor Anderson (Wisconsin) and Bryan Griffin (Xavier).
In injury updates, after not playing today Trevor Anderson (Wisconsin) was called day to day, as was Dieonte Miles (Xavier). Bryan Griffin (Xavier) will be back next game.
If you find value from posts like this and the @NCAAFantasyHoop twitter feed, would you consider making a donation through a secure Paypal link on this site to support my work? Donate Here!
(Injuries & Updates in the first section, Transfers down below.)
Injuries and Updates from Feb 21:
Ralph Agee, San Jose State – DNP, undisclosed
Trevor Anderson, Wisconsin – DNP again (upper body), day to day
Butler – Aaron Thompson (thumb, shoulder) & Bo Hodges (calf) DNP, Bryce Nze DNP again
Davidson – Sam Mennenga (0 pts/21 mins) & Luka Brajkovic (8 pts/27 mins) started after not playing Friday, Nelson Boachie-Yiadom returned off the bench (4 pts/19 mins)
Michael Durr, South Florida – returned as a starter (knee) – 8 pts/23 mins
CJ Fredrick, Iowa – started again (lower body) – 18 pts/28 mins
George Washington – Matthew Moyer, Chase Paar & Sloan Seymour DNP, undisclosed, Jamison Battle returned as a starter (concussion) – 26 pts/38 mins
Bryan Griffin, Xavier – DNP again (covid protocols), will be back for next game
Jace Howard, Michigan – DNP again (ankle)
Walt McGrory, Wisconsin – season debut (hip surgery) – 0 pt/1 min
Dieonte Miles, Xavier – DNP, knee, day to day
Darryl Morsell, Maryland – left in the first half grabbing his shoulder, went to the locker and returned to action with a shoulder sleeve, left again with 4 minutes left in the 2nd half, in postgame it was confirmed to have partially popped out twice – 12 pts/29 mins
Ohio State – Musa Jallow DNP, ankle injury last game, Seth Towns played (knee) – 3 pts/7 mins
Daniel Ramsey, Xavier – season debut (injuries) – 4 pts/5 mins
Temple – Damian Dunn DNP again, hopeful for Wednesday (knee), JP Moorman was listed as a pregame starter in StatBroadcast but then was not listed as a starter right before the game as Nick Jourdain got the start (8 pts/25 mins), Moorman played off the bench – 10 pts/22 mins
Dominick Welch, St Bonaventure – left the game in the first half with an apparent ankle issue, spent time riding a bike on the sideline, returned to action – 9 pts/31 mins
Jacob Young, Rutgers – landed awkwardly on his leg in the final minute of the game, team did not have an update postgame as he was being evaluated
Transfer Updates from Feb 21:
Jimmy "Tre" Clark, VCU – will transfer to Tallahassee Comm. College – 5.9 ppg