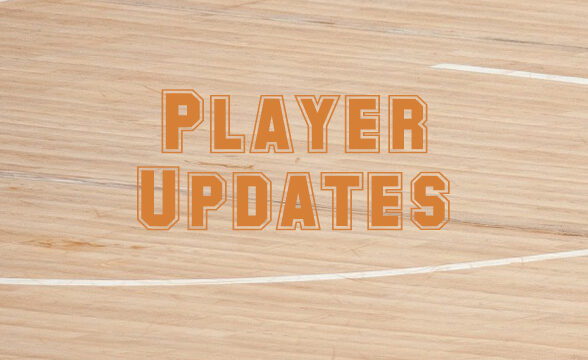 Tweet
On Thursday newly sitting out were Trevor Anderson (Wisconsin) with an upper body injury, Ryan Rapp (Washington State) with a leg injury, and Craig Porter (Wichita State) with an undisclosed injury.
Returning to action included CJ Fredrick (Iowa), Quade Green (Washington), Ira Lee (Arizona), Oumar Ballo (Gonzaga), and Adam Seiko (San Diego State).
Fabian White (Houston) made his season debut after a torn ACL last May.
Suffering in-game injuries were Seth Towns (Ohio State) who went down in the second half with an apparent injury to the knee that he has had issues with, he did not return to the game but did come back out to the sideline. Leaving the game with apparent injuries but returning to action were Jamari Wheeler (Penn State, knee), Musa Jallow (Ohio State, ankle) and Cody Riley (UCLA, lower body).
Notables remaining out included Rylan Jones & Mikael Jantunen (Utah), Isaac Bonton (Washington State), Eric Williams (Oregon) and Jalen Hill (UCLA).
In injury updates, Foster Loyer (Michigan State) will sit around a week to rest his shoulder, and Jordan Usher (Georgia Tech) is back at practice after an ankle injury on Sunday.
If you find value from posts like this and the @NCAAFantasyHoop twitter feed, would you consider making a donation through a secure Paypal link on this site to support my work? Donate Here!
(Injuries & Updates in the first section, Transfers down below.)
Injuries and Updates from Feb 18:
Trevor Anderson, Wisconsin – DNP, upper body
Oumar Ballo, Gonzaga – returned to action (illness) – 2 pts/4 mins
Matt Bradley, Cal – did not start after missing several days of practice due to illness, played off the bench – 16 pts/23 mins
Ibrahima Diallo, Ohio State – warmed up but DNP again
CJ Fredrick, Iowa – returned as a starter (lower body) – 5 pts/31 mins – a significant minute increase from the past 3 games
Quade Green, Washington – returned as a starter (illness) – 5 pts/21 mins
Jalen Hill, UCLA – DNP again (personal)
Jace Howard, Michigan – DNP again, was not dressed(ankle)
Musa Jallow, Ohio State – went to the locker room in the first half, returned to action, was again seen getting attention for his ankle in the second half – 9 pts/22 mins
Ira Lee, Arizona – returned to action – 0 pts/5 mins
Foster Loyer, Michigan State – will sit out around a week to try to heal his shoulder, sounds like will miss two games then will re-assess
Cody Riley, UCLA – limped off the court and went to the locker room midway through the second half, returned to action – 10 pts/20 mins
Adam Seiko, San Diego State – returned to action (calf) – 0 pts/14 mins
Seth Towns, Ohio State – went down with apparent injury to same knee he has had issues with, limped to the locker room in the 2nd half, came back out and rode exercise bike, did not return, in postgame was said "I think he's going to be fine" – 0 pts/9 mins
Jordan Usher, Georgia Tech – back at practice today after ankle injury
Utah – Mikael Jantunen DNP again (overseas), Rylan Jones DNP again (shoulder)
Washington State – Isaac Bonton, DNP again (ankle), Ryan Rapp, DNP, (leg), Tony Miller DNP, personal
Jabari Walker, Colorado – DNP again (foot)
Jamari Wheeler, Penn State – went down holding his knee and had to be helped off the court at the end of the first half, had a large icepack on his right knee, returned to play in the 2nd half – 11 pts/36 mins
Fabian White, Houston – season debut (ACL tear) – 3 pts/8 mins
Wichita State – Craig Porter DNP, injury, Trevin Wade DNP, injury
Eric Williams, Oregon – DNP again, was not dressed (knee)
Transfer Updates from Feb 18:
Wynston Tabbs, Boston College – enters transfer portal – 13.9 ppg