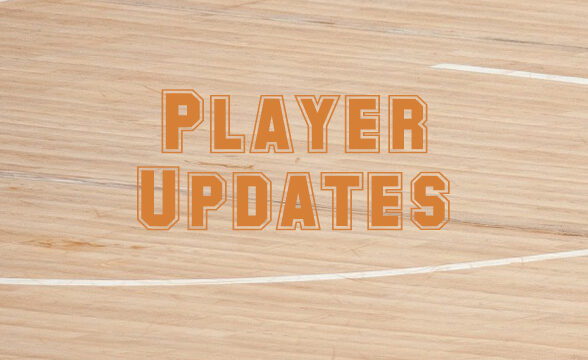 Tweet
On Thursday newly sitting out were Kyle Young (Ohio State) in concussion protocol, Ayo Dosunmu (Illinois) with a head/facial injuries, Jaelen House (Arizona State) with back tightness, Luke Frampton (Western Kentucky) undisclosed, Liam Robbins (Minnesota) with an ankle injury that he aggravated, Oscar da Silva (Stanford) with a lower body injury, and Kerr Kriisa (Arizona) with a groin injury.
Returning to action included Isaac Bonton & Ryan Rapp (Washington State), Jalen Graham (Arizona State), Rylan Jones (Utah), Isaiah Mobley (USC), Musa Jallow (Ohio State), Joel Brown (Cal), Jabari Walker (Colorado), and Jace Howard (Michigan).
Suffering in-game injuries were Jack Nunge (Iowa) with a right knee injury early in the first half, went to the locker room and the team said he was doubtful to return, returned to the sideline on crutches in the second half. Connor McCaffery (Iowa) left the game with an ankle injury in the second half and did not return.
Notables remaining out included Marcus Bagley & Josh Christopher (Arizona State), Mikael Jantunen (Utah), Foster Loyer (Michigan State), Jalen Hill (UCLA) and Gabe Kalscheur (Minnesota).
In injury & other updates, Rich Kelly (Boston College) is done for the season with a foot injury and plans to transfer, Grant Golden (Richmond) will play Friday, David DeJulius (Cincinnati) is opting out of the rest of the season, and Teddy Allen (Nebraska) has been playing through a wrist issue. See transfer news down below.
If you find value from posts like this and the @NCAAFantasyHoop twitter feed, would you consider making a donation through a secure Paypal link on this site to support my work? Donate Here!
(Injuries & Updates in the first section, Transfers down below.)
Injuries and Updates from Feb 25:
Teddy Allen, Nebraska – is battling/playing with a wrist issue
Arizona State – Josh Christopher (back) & Marcus Bagley (ankle) DNP again, Jaelen House DNP, back tightness, Jalen Graham returned to action (migraines) – 8 pts/28 mins
Joel Brown, Cal – returned to action (Achilles) – 1 pts/22 mins
Oscar da Silva, Stanford – DNP, lower body, day to day
David DeJulius, Cincinnati – opting out of the rest of the season for covid-related mental health reasons, plans to rejoin program when healthy
Ayo Dosunmu, Illinois – DNP, head and facial injuries, will have scans/tests/MRIs, no timeline
Luke Frampton, Western Kentucky – DNP, undisclosed
Grant Golden, Richmond – will play Friday (small fracture in left middle finger)
Jalen Hill, UCLA – DNP again (personal)
Jace Howard, Michigan – returned to action (ankle) – 1 min
Rich Kelly, Boston College – is done for the season with a foot injury, plans to enter the transfer portal
Kerr Kriisa, Arizona – DNP, groin
Foster Loyer, Michigan State – DNP again (shoulder)
Connor McCaffery, Iowa – left in the second half with an ankle injury, wanted to return to the game, hopeful for Sunday
Minnesota – Gabe Kalscheur DNP again, Liam Robbins DNP (ankle)
Isaiah Mobley, USC – returned as a starter (calf) – 2 pts/19 mins
Jack Nunge, Iowa – went to the locker room in the first half with a right knee injury, team said he was doubtful to return, returned to the sideline on crutches in the second half, will have MRI tomorrow
Ohio State – Kyle Young DNP (concussion), Musa Jallow returned and started (ankle) – 0 pts/33 mins
San Diego State – Aguek Arop played (vertigo) – 0 pts/5 mins, Lamont Butler played (calf) – 4 pts/15 mins
Utah – Rylan Jones returned to action off the bench (shoulder) – 0 pts/17 mins, Mikael Jantunen DNP again (covid protocols)
Jabari Walker, Colorado – returned to action (foot) – 6 pts/8 mins
Washington State – Isaac Bonton returned off the bench (ankle) – 3 pts/ 19 mins, Ryan Rapp returned to action (leg) – 0 pts/1 mins
Transfer Updates from Feb 25:
Matt Cross, Miami – will transfer to Louisville – 6.9 ppg
Myles Douglas, St Joe's – enters transfer portal – 3.6 ppg
Rich Kelly, Boston College – plans to transfer – 11.0 ppg
Sean Rhea, UT-Rio Grande Valley – enters transfer portal – 15.2 ppg
Au'Diese Toney, Pitt – has left the program and will transfer -14.4 ppg