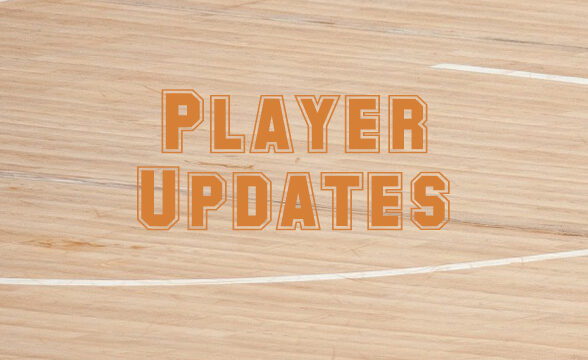 Tweet
On Tuesday newly sitting out were Bones Hyland (VCU) with a foot injury last game, KeShawn Curry (VCU) for personal reasons after a death in the family, David Johnson (Louisville) with non-covid illness, Sharife Cooper (Auburn) with an ankle injury, Jonathan Tchamwa Tchatchoua (Baylor) was "unavailable", presumably covid-related, Jalen Graham (Arizona State) with migraine issues, and Antonio Gordon (Kansas State) due to a foot injury.
Returning to action included Tre Mitchell & Noah Fernandes (UMass), and Tyrece Radford & Cordell Pemsl (Virginia Tech).
Playing through injuries were Dre Davis (Louisville) and Greg Williams (St John's).
Suffering in-game injuries were Grant Golden (Richmond) who suffered a left hand injury in the first half, returned to action with his fingers taped, but was seen getting attention from a trainer and after the game it was said he will have his hand evaluated. Posh Alexander (St John's) suffered a right thumb injury later in the second half, had an ice wrap on it and went to the locker room and did not return to the game.
Notables remaining out included Jalen Cone (Virginia Tech), Marcus Bagley & Josh Christopher (Arizona State), and Foster Loyer (Michigan State).
In injury updates, Jermaine Couisnard (South Carolina) and Thomas Allen (NC State) are questionable for Wednesday, Ryan Rapp & Isaac Bonton are both day to day for Washington State, Justin Lewis & Oso Ighodaro remain out for Marquette, Jalen Hill (UCLA) is still not with the team, Jacob Young (Rutgers) is fine after a late-game spill, and Aaron Thompson, Bo Hodges & Bryce Nze are all questionable Wednesday for Butler.
If you find value from posts like this and the @NCAAFantasyHoop twitter feed, would you consider making a donation through a secure Paypal link on this site to support my work? Donate Here!
(Injuries & Updates in the first section, Transfers down below.)
Injuries and Updates from Feb 23:
Akok Akok, UConn – DNP, game to game based on how he's feeling
Posh Alexander, St John's – left later in the 2nd half with a right hand/wrist injury, was seen with an ice wrap and went to the locker room, did not return, in postgame was shared to be a right thumb injury
Thomas Allen, NC State – questionable for Wednesday (lower leg)
Arizona State – Pavlo Dziuba, Josh Christopher & Marcus Bagley DNP again, Jalen Graham DNP (illness, migraine)
Baylor – Jonathan Tchamwa Tchatahcoua, Jordan Turner & Mark Paterson were unavailable
Joey Brunk, Indiana – "pretty much done for the season" with back issue
Butler – Aaron Thompson, Bo Hodges & Bryce Nze all questionable for Wednesday
Sharife Cooper, Auburn – DNP, boot on foot after turning his ankle in practice Sunday, no timeline for return yet & will not rush him back, Jamal Johnson started with Cooper out- 10 pts/31 mins
Jermaine Couisnard, South Carolina – limited in practice yesterday but ankle is improving and will do more today, one reporter said his ankle is "healed", questionable/GTD for Wednesday
KeShawn Curry, VCU – DNP, death in the family
Juwan Gary, Alabama – practiced Tuesday, will be assessed for Wed.
Grant Golden, Richmond – injured left hand/fingers in 1st half, returned to action with fingers taped, was seen getting attention in postgame as well – 16 pts/25 mins
Quade Green, Washington – did not start but played off the bench, in postgame it was said to be a coach's decision – 9 pts/20 mins
Jalen Hill, UCLA – remains away from the team (personal)
Bones Hyland, VCU – DNP (foot), hopeful to return Saturday after rehab, Jamir Watkins started in his place – 9 pts/29 mins
Josiah-Jordan James, Tennessee – day to day with wrist sprain
Kansas State – Antonio Gordon (foot) & Carlton Linguard DNP, the team's pregame graphic listed Gordon as a starter but apparently confused him with DaJuan Gordon, Rudi Williams DNP again (hand)
Louisville – Aidan Igiehon & Josh Nickelberry DNP again (illness), Dre Davis started (thigh bruise), David Johnson DNP, non-covid illness, Johnson & Nickelberry are hopeful for Saturday
Foster Loyer, Michigan State – DNP again (shoulder)
Marquette – Justin Lewis & Oso Ighodaro are still out, not expected back soon
Shareef O'Neal, LSU – DNP again (foot)
Trey Patterson, Villanova – midyear enrollee season debut – 2 mins
Justin Powell, Auburn – DNP again (concussion)
UMass – Tre Mitchell returned off the bench (shoulder) 9 pts/22 mins, Noah Fernandes returned off the bench (wrist) 3 pts/19 mins, Javohn Garcia started after an eye poke last game (before pause)
Virginia Tech – Cordell Pemsl returned to action (back) – 0 pts/4 mins, Tyrece Radford returned as a starter after suspension (11 pts/36 mins), Jalen Cone was initially said to be planning to play but in the afternoon was updated to being out indefinitely (ankle)
Washington State – Isaac Bonton & Ryan Rapp are both day to day, will travel for Thursday game
Greg Williams, St John's – played after being limited last game (back) – 5 pts/21 mins
Jacob Young, Rutgers – is fine after possible injury in final minute of last game
Transfer Updates from Feb 23:
Antonio Daye, FIU – enters transfer portal and is done for the season – 17.1 ppg