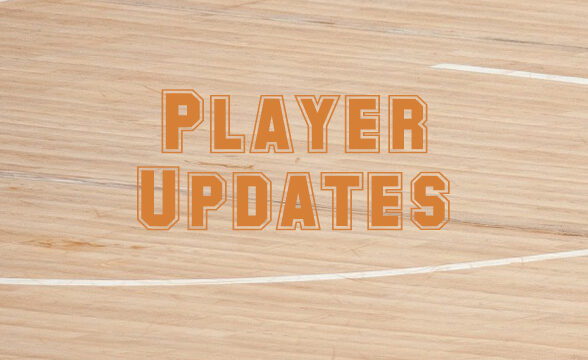 Tweet
On Wednesday newly sitting out were Nate Johnson (Xavier) with a leg injury, Vanderbilt teammates Scotty Pippen with a hip flexor & Dylan Disu who needs knee surgery and is done for season, Seventh Woods (South Carolina) with a head injury, MJ Walker & Tanor Ngom (Florida State) were out with nagging injuries, Trae Hannibal (South Carolina) did not travel, Nick Ongenda (DePaul) with an ankle injury, PJ Hall (Clemson) for undisclosed (covid-related?) reasons, Dahmir Bishop (St Joe's) undisclosed, Arashma Parks (Temple) with a hip injury, and Christian Gray (Fresno State) with a shoulder injury.
Returning to action included Bryce Nze (Butler), Jermaine Couisnard (South Carolina), Josiah-Jordan James (Tennessee), Scott Spencer (La Salle), Chase Paar (George Washington), Ryan Murphy (Duquesne), Juwan Gary (Alabama), & Bryan Griffin (Xavier).
Suffering in-game injuries were Alexis Yetna (South Florida) who suffered a left ankle injury in the first half and returned to the bench area in the second half with a boot. Armaan Franklin (Indiana) played 16 minutes but none in the second half as he aggravated an ankle injury. Malik Osborne (Florida State) had to be assisted off the court with what was described in postgame as a rolled ankle.
Notables remaining out included Damian Dunn (Temple), Thomas Allen (NC State), Javon Freeman-Liberty (DePaul), Aaron Thompson & Bo Hodges (Butler), Matthew Moyer (George Washington) and Clevon Brown (Vanderbilt).
In injury updates, Kyle Young (Ohio State) will not play Thursday due to concussion protocol and teammate Musa Jallow is a gametime decision, Liam Robbins (Minnesota) sounds questionable for Thursday while teammate Marcus Carr is dealing with a sore foot but is expected to play.
Posh Alexander (St John's) had his thumb MRI come back not showing any breaks or fractures, Jabari Walker (Colorado) is day to day going into Thursday, and San Diego State's Aguek Arop and Lamont Butler may be questionable for Thursday.
If you find value from posts like this and the @NCAAFantasyHoop twitter feed, would you consider making a donation through a secure Paypal link on this site to support my work? Donate Here!
(Injuries & Updates in the first section, Transfers down below.)
Injuries and Updates from Feb 24:
Bryce Aiken, Seton Hall – DNP again (knee)
Posh Alexander, St John's – MRI on right thumb shows no breaks or fractures
Thomas Allen, NC State – DNP again (lower leg)
Harlond Beverly, Miami – DNP again (back)
Butler – Aaron Thompson & Bo Hodges DNP again, Bryce Nze returned as a starter (groin) – 11 pts/34 mins
Cal – Grant Anticevich and Makale Foreman will return next season
Marcus Carr, Minnesota – dealing with sore foot but expected to play
DePaul – Javon Freeman-Liberty DNP again (concussion), Nick Ongenda DNP, ankle
Damian Dunn, Temple – DNP again (knee)
Florida State – MJ Walker DNP (sounds like he was rested after being generally banged up, had 0 pts in 28 minutes last game) & Tanor Ngom DNP, undisclosed, both were said to have nagging injuries, Malik Osborne had to be helped off the court with a lower body injury which in postgame was described as a rolled ankle.
Armaan Franklin, Indiana – played 16 minutes in the first half but none in the second half, in postgame was said he aggravated his ankle injury
Juwan Gary, Alabama – returned to action (shoulder) – 9 pts/17 mins
George Washington – Matthew Moyer & Sloan Seymour DNP again, Chase Paar returned off the bench – 1 pt/10 mins
Christian Gray, Fresno State – DNP, shoulder, day to day
PJ Hall, Clemson – DNP (covid-related?)
Musa Jallow, Ohio State – GTD Thursday (ankle)
Josiah-Jordan James, Tennessee – returned to action off the bench (wrist) – 2 pts/28 mins
Marquette – Oso Ighodaro & Justin Lewis DNP again
Iverson Molinar, Miss State – did not start because was late to a team function, played off the bench – 9 pts/21 mins
Ryan Murphy, Duquesne – returned to action – 0 pts/4 mins
Arashma Parks, Temple – DNP, hip, game to game
Liam Robbins, Minnesota – still not practicing as he's recently been playing/limited with an ankle injury, may be questionable after aggravating the ankle last game
St Joe's – Anthony Longpre DNP again, Dahmir Bishop DNP, undisclosed
San Diego State – Aguek Arop did not practice today (vertigo), Lamont Butler is dealing with a calf injury but is hopeful for Thursday
South Carolina – Seventh Woods DNP, head injury in practice, Trae Hannibal did not travel, "gave him the day off", Jermaine Couisnard returned off the bench – 4 pts/20 mins
Scott Spencer, La Salle – returned as a starter (lower body) – 3 pts/16 mins
Jordy Tshimanga, Dayton – was in the starting lineup posted by the team pregame but was a late swap out, DNP, in postgame was said it was due to matchup issues and rest, not injury
UNC – Puff Johnson DNP again (but no longer in boot), Sterling Manley DNP again
Vanderbilt – Clevon Brown DNP again (knee), Scotty Pippen (hip flexor, MRI tomorrow) & Dylan Disu (knee surgery on Friday, done for season) DNP
Jabari Walker, Colorado – is day to day (foot)
Rashun Williams, South Florida – DNP again
Tomas Woldetensae, Virginia – DNP again (covid-related), hopeful for Monday
Seventh Woods, South Carolina – DNP (head), practice injury
Xavier – Bryan Griffin returned – 0 pts/7 mins, Nate Johnson (leg) DNP and Dieonte Miles DNP again
Alexis Yetna, South Florida – suffered an apparent left ankle injury in the first half, returned to the bench with a walking boot
Kyle Young, Ohio State – out Thursday, concussion protocol
Transfer Updates from Feb 24:
Thomasi Gilgeous-Alexander, Evansville – enters transfer portal – 2.4 ppg
Markeese Hastings, Butler – enters transfer portal – 0.5 ppg
Xavier Johnson, Pitt – enters transfer portal, done playing this season – 14.2 ppg