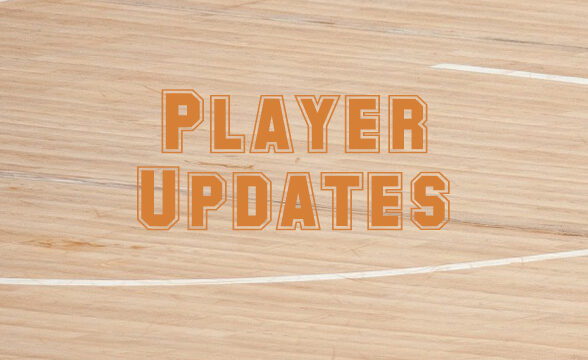 Tweet
Saturday saw RJ Nembhard (TCU), Matt Haarms (BYU), Jermaine Harris (Rhode Island) and Bryce Williams (Oklahoma State) get their first action of the season after missing games earlier this week.
In injury updates, Gavin Baxter (BYU) is out for the season with an ACL tear and Samuell Williamson (Louisville) is out Sunday with a toe injury but is day to day going forward. Rocket Watts (Michigan State) was favoring his ankle at the end of the game Saturday night but in postgame it didn't sound serious. Tony Miller (Washington State) did not play in the late game Saturday night due to an undisclosed injury after suiting up in the opener.
Nahziah Carter (Washington) remains suspended and did not travel with the team for their Sunday game, and in transfer news Texas' Will Baker announced he is leaving the team.
(Injuries & Updates in the first section, Transfers down below.)
Injuries and Updates from Nov 28:
Gavin Baxter, BYU – announced he has suffered a torn ACL and is out for the season
Nahziah Carter, Washington – remains suspended and did not travel with the team for their upcoming game
Xavier Castaneda, South Florida – DNP Sat.
Julian Champagnie, St John's – practiced Saturday after sitting out so far this season
Rasheem Dunn, St John's – did not travel with the team for Monday's game in concussion protocol
Hasahn French, St Louis – DNP due to concussion protocol
Andre Gustavson, Richmond – expected to play Sunday
Matt Haarms, BYU – season debut on Saturday
Chris Harris, Oklahoma State – did not play after lower body injury last game
Jermaine Harris, Rhode Island – made his season debut after sitting out the last two games
Charles Manning, LSU – did not play again Sat (foot)
Tony Miller, Washington State – did not play Sat (undisclosed injury)
David Mutaf, Minnesota – warmed up Sat after not dressing last game but did not play
RJ Nembhard, TCU – scored 8 points Sat after missing last game
Myles Warren, Washington State – played on Sat after missing the opener with an injury
Rocket Watts, Michigan State – was favoring his ankle late and was looked at by trainers, in postgame he said he was feeling good after icing it
Bryce Williams, Oklahoma State – played Sat after missing last game with an emergency dental issue
Tre Williams, Minnesota – played after not dressing last game
Samuel Williamson, Louisville – day to day with a toe injury, will not play Sunday
AJ Wilson, George Mason – played the opener but sat out the last 2 games with an ankle injury
Transfer Updates from Nov 28:
Will Baker, Texas – announced he will transfer