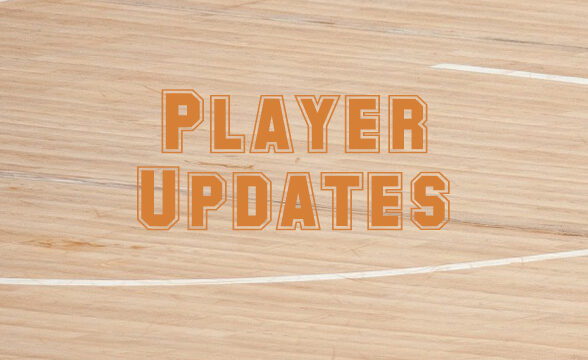 Tweet
To start with the positive, a few players on Wednesday made returns after missing last season including Eric Curry (Minnesota), Joshua Langford (Michigan State), Wynston Tabbs (Boston College) and Alexis Yetna (South Florida).
Some of the bigger surprises that did not suit up Wednesday were Matt Haarms (BYU), Jalen Hill (UCLA), Andrew Jones (Texas), Johnny Juzang (UCLA), Caleb Mills (Houston), D'Shawn Schwartz (Colorado), Hasahn French (St Louis), and Tyrese Martin (UConn).
A few players who appeared to suffer injuries on Wednesday were Geo Baker, Rutgers (ankle), Chris Harris, Oklahoma State (knee?), Bryce Nze, Butler (ankle), Khalid Moore, Georgia Tech (ankle) and Fred Thatch, St Louis (lower body).
Finally, in non-game news, getting waivers for eligibility were Javon Freeman-Liberty (DePaul), Khalif Battle (Temple), and Trey Murphy (Virginia – did play Wed).
(Injuries & Updates in the first section, Transfers down below.)
Injuries and Updates from Nov 25:
Eduardo Andre, Nebraska – not on the bench Wed, hopeful to return soon
Geo Baker, Rutgers – left the game injured and returned to the court on crutches, in postgame was said to have a "bad ankle sprain"
Khalif Battle, Temple – eligible after transfer from Butler
Chudier Bile, Georgetown – in the 2nd half was on the bench in street clothes, postgame quote "Chudi is hurt"
Keion Brooks, Kentucky – not suited up on Wed.
Joey Brunk, Indiana – not dressed Wed for precautionary reasons (back)
Xavier Castaneda, South Florida – did not play Wed
Julian Champagnie, St. John's – did not play Wed after being GTD
Ed Chang, Missouri – unavailable Wed as he recovers from a covid-related illness
Jalen Cone, Virginia Tech – cleared but held out as a precaution, not expected to play in next two games either
Eric Curry, Minnesota – played after missing all of last season
Jyare Davis, Providence – remains out with a concussion
Kaosi Ezeagu, Kansas State – started after missing practice time recently
Javon Freeman-Liberty, DePaul – eligible after transfer from Valparaiso
Hasahn French, St Louis – out Wed due to concussion protocol
Matt Haarms, BYU – out Wed, day to day, foot in boot
Anthony Harris, UNC – not dressed Wed night
Chris Harris, Oklahoma State – appeared to injure knee in game Wed. (had knee injury last season)
Jermaine Harris, Rhode Island – foot, out Wed
Jalen Hill, UCLA – knee, day to day
Bo Hodges, Butler – waiver request was denied, school will appeal
Musa Jallow, Ohio State – played after missing last season
Tyson Jolly, SMU – did not appear to be with the team Wed night
Andrew Jones, Texas – held out for precautionary reasons (cough)
Colby Jones, Xavier – DNP, in quarantine for contact tracing
Johnny Juzang, UCLA – stress reaction in right foot, week to week
Joshua Langford, Michigan State – returned to action
Kimani Lawrence, Arizona State – unavailable Wed night, did not travel
Tyrin Lawrence, Vanderbilt – groin injury, likely unavailable early season
Sterling Manley, UNC – not dressed Wed night
Tyrese Martin, UConn – suspended for Wed. game for participating in an unsanctioned summer league game, one-game suspension
Kevin McCullar, Texas Tech – not dressed Wed with crutches and a cast, "rolled his ankle" in the postgame comments
Darius McNeill, SMU – not dressed Wed night
Caleb Mills, Houston – did not play Wednesday as precaution for tweaked ankle
Iverson Molinar, Miss State – hopeful to return by Dec 4
Khalid Moore, Georgia Tech – left with ankle injury, came out and iced ankle
Trey Murphy, Virginia – eligible after transfer from Rice
David Mutaf, Minnesota – not dressed Wed
RJ Nembhard, TCU – did not play Wed, covid protocols
Jimmy Nicholls, Providence – DNP Wed after missing some practice recently
Jack Nunge, Iowa – unavailable Wed. for family funeral
Bryce Nze, Butler – left game Wed with ankle injury
Ody Oguama, Wake Forest – unavailable Wed. due to covid protocol
John Ojiako, Virginia Tech – dealing with knee issue
Montreal Pena, Oklahoma State – unavailable Wed (personal)
D'Shawn Schwartz, Colorado – did not play, possible covid exposure
Wynston Tabbs, Boston College – returned to action after missing last season
Fred Thatch, St Louis – appeared to suffer a lower body injury Wed
Derrick Walker, Nebraska – suspended for 16 games
CJ Wilcher, Xavier – DNP, in quarantine for contact tracing
Bryce Williams, Oklahoma State – unavailable Wed due to dental emergency
Tre' Williams, Minnesota – not dressed Wed
Alexis Yetna, South Florida – played off the bench after missing last season with injury
Transfer Updates from Nov 25: