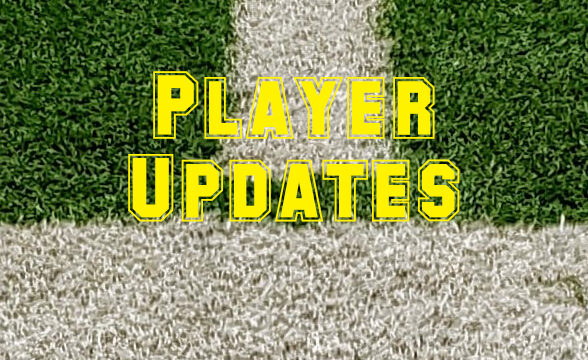 Tweet
More notable players entering the transfer portal were Miami QB N'Kosi Perry, Michigan QB Joe Milton, App State RB Raykwon Anderson, UMass WR Samuel Emilus, and Oklahoma WR Trevon West.
Announcing transfer destinations were WR Bryan Thompson (Utah to Arizona State), and TE Aaron Jarman (Temple to East Carolina).
Declaring for the NFL Draft was Air Force QB Donald Hammond.
Announcing they would return next season were UTSA teammates RB BJ Daniels and TE Leroy Watson.
In injury & other updates, Rutgers QB Noah Vedral hopes to be full-go for spring practice, Purdue QB Aidan O'Connell will be limited this spring after foot surgery, South Alabama RB Carlos Davis was suspended indefinitely after an arrest for drug-related charges, New Mexico State RB O'Maury Samuels is dealing with an injury and did not dress for Feb 21 game, and Liberty WR CJ Yarbrough has opted out of spring practice and is reportedly no longer with the team.
Reminder – New Mexico State is playing a handful of spring games soon against non-FBS opponents, you'll see some of their updates here & in the database as appropriate.
Updates from February 15-21:
QBs:
Donald Hammond, Air Force – declares for the NFL Draft after previously announcing he had planned to transfer, did not play in 2020
Joe Milton, Michigan – enters portal as grad transfer – 1077-4
Aidan O'Connell, Purdue – will be limited in spring after foot surgery
N'Kosi Perry, Miami – re-enters transfer portal after previously withdrawing, this was expected
Cord Sandberg, Auburn – will transfer to Eastern Kentucky
Noah Vedral, Rutgers – ankle is doing much better, hopeful to be full-go for start of spring practices
RBs:
Raykwon Anderson, App State – enters transfer portal – opted out last season, 33/223-2 in '19
BJ Daniels, UTSA – will return next season – 23/129-2
Carlos Davis, South Alabama – suspended indefinitely for drug-related charges
Karmi Mackey, Eastern Michigan – enters transfer portal – 3/11-0
O'Maury Samuels, New Mexico State – has been limited with injury, did not dress for Feb. 21 game
WRs & TEs:
TE Chris Barrett, Liberty – transfers to Valdosta State – 5/29-2
Samuel Emilus, UMass – enters portal as grad transfer – 17/168-1
Jayden Harrison, Vanderbilt – enters transfer portal – 8/20-0
TE Aaron Jarman, Temple – will transfer to East Carolina – 1/11-1
TE Zack Kuntz, Penn State – enters transfer portal
Bryan Thompson, Utah – will grad transfer to Arizona State – 9/187-1
TE Leroy Watson, UTSA – will return next season – 14/176-0
Trevon West, Oklahoma – enters transfer portal – 4/59-0
Rashawn Williams, Indiana – will transfer to Hutchinson Comm. College
CJ Yarbrough, Liberty – has opted out of spring football, is reportedly no longer on the team