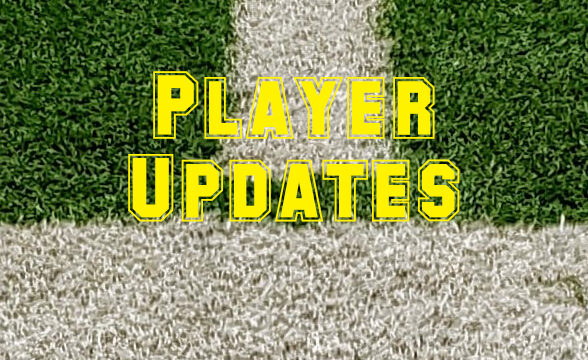 Tweet
In injury & other updates, QB Devin Leary (NC State) is cleared for spring practice, QB Chase Cord (Boise State) is likely done with football after graduating this spring, QB Myles Brennan (LSU) is healthy for the spring, QB D'Eriq King (Miami) is progressing but is out for the spring, QB Matt Fink (USC) will not return in the fall, RB Jaylan Knighton (Miami) is full-go for spring, WR Khalil Shakir (Boise State) will be limited in spring after offseason surgery for a foot fracture, and TE Will Mallory (Miami) is out for the spring with a shoulder injury.
Entering the transfer portal was WR Tyrone Scott (Central Michigan).
Announcing transfer destinations were RB Andrew Clair (Bowling Green to Northwestern) WR Warren Thompson (Florida State to Arkansas), WR Puka Nacua (Washington to BYU) and WR Samson Nacua (Utah to BYU).
RB Isaiah Bowser (Northwestern) had previously announced he would transfer to Miami, Ohio, but he decommitted and re-opened his recruitment then committed to UCF.
Updates from March 8-14:
QBs:
Xavier Arline, Navy – QB1 on spring depth chart
Myles Brennan, LSU – is healthy in team workouts
Will Brown, SMU – enters transfer portal, also played WR
Chase Cord, Boise State – calls it a career after dealing with persistent knee pain, although not officially medically retiring
Matt Fink, USC – will not return to the program this fall
Tyler Goslin, Navy – listed as SB on spring depth chart
Austin Hergott, Central Michigan – enters portal, had converted to TE
KJ Jefferson, Arkansas – goes into spring as QB1
D'Eriq King, Miami – out for spring (knee), rehab going well, working on stationary bike, making standing throws, on track for fall return
Devin Leary, NC State – cleared for spring practice (broken leg)
RBs:
Isaiah Bowser, Northwestern – decommitted from transferring to Miami (OH), then committed to UCF
Andrew Clair, Bowling Green – will transfer to Northwestern – 52/266-0
Zonovan Knight, NC State – limited for spring practice
Jaylan Knighton, Miami – full-go for spring (shoulder)
Ricky Person, NC State – limited for spring practice
TaMerik Williams, SMU – transferring to North Dakota State – 13/98-2
WRs & TEs:
Emeka Emezie, NC State – limited for spring practice
TE Xavier Gravette, Morgan State – transferring to Coastal Carolina
TE Will Mallory, Miami – out for spring (shoulder)
Puka Nacua (Washington) – will transfer to BYU – 9/151-1 last year
Samson Nacua (Utah) – will grad transfer to BYU – 82/1015-11 over 4 seasons
Tyrone Scott, Central Michigan – in the transfer portal – 37/650-5 in 2019
Khalil Shakir, Boise State – will be limited in spring after offseason surgery for a foot fracture
Warren Thompson, Florida St – will transfer to Arkansas – 5/104-1