Tag:
ncaa basketball injuries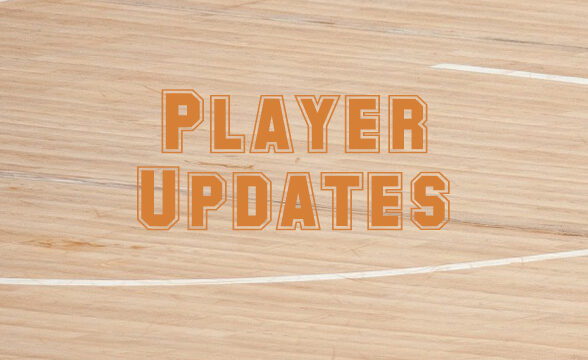 Tweet
Declaring for the NBA Draft were Jason Preston (Ohio) and Derek Culver (West Virginia).
Notable names in the transfer portal from more major conferences included Moussa Cisse (Memphis), Caleb Christopher (Arizona State), Tibet Gorener (Arizona), & Jeff Ngandu (Seton Hall).
Other potential impact transfers included Davion Warren (Hampton, 21.2 ppg, decommits from Memphis), Naz Bohannon (Youngstown State, 16.5 ppg), & Dusan Mahorcic (Illinois State, 9.9 ppg).
Notables announcing transfer destinations were Kamari Williams (Boston College to Miami OH), Kolby Lee (BYU to Dixie State), Dan Akin (UMBC to Cal Baptist), Tyler Harris (Iowa State back to Memphis again), Kur Kuath (Oklahoma to Marquette), Jamir Moultrie (NC Central to Western Carolina), Baylor Hebb (Loyola-Chicago to Colorado State), Tahirou Diabate (Portland to San Diego State), Dylan Disu (Vanderbilt to Texas), Issac McBride (Vanderbilt to Oral Roberts), Justin Minaya (South Carolina to Providence), Bryan Knapp (Cornell to George Washington), & William Douglas (SMU to Prairie View A&M).
(Injuries & Updates in the first section, Transfers down below.)
Injuries and Updates from Apr 26:
Jordan Bohannon, Iowa – will return next season – 10.6 ppg
Derek Culver, West Virginia – on Monday apparently declares for NBA Draft, signs with agent who does not appear to be NCAA certified which would mean he is done with college, but on social media he says he could return, weird situation here, Tuesday morning on social media he finally confirmed he would go pro
Abu Kigab, Boise State – will return next season – 11.8 ppg
Jason Preston, Ohio – declares for NBA Draft, will maintain eligibility
Transfer Updates from Apr 26:
Dan Akin, UMBC – transfers to Cal Baptist – 7.9 ppg
Markedric Bell, Arkansas-Pine Bluff – transfers to Prairie View A&M – 7.9 ppg
Naz Bohannon, Youngstown State – enters portal (GT) – 16.5 ppg
Caleb Christopher, Arizona State – enters portal – 1.1 ppg
Moussa Cisse, Memphis – enters portal – 6.6 ppg, has also previously declared for the NBA Draft
Tahirou Diabate, Portland – transfers to San Diego State – 9.6 ppg, '19-20
Dylan Disu, Vanderbilt – transfers to Texas – 15.0 ppg
William Douglas, SMU – transfers to Prairie View A&M – 3.5 ppg
Jason Douglas-Stanley, Manhattan – enters portal – 6.3 ppg
Kameron Gibson, Western Carolina – transfers to Vermont – 6.1 ppg
Tibet Gorener, Arizona – enters portal – 1.1 ppg
Tyler Harris, Iowa State – transfers back to Memphis – 7.5 ppg
Baylor Hebb, Loyola-Chicago – transfers to Colorado State – 3.7 ppg
Tai'Reon Joseph, Austin Peay – enters portal – 6.4 ppg
Bryan Knapp, Cornell – transfers to George Washington – 7.1 ppg, '19-20
Kur Kuath, Oklahoma – transfers to Marquette – 5.1 ppg
Kolby Lee, BYU – transfers to Dixie State – 3.7 ppg
Dusan Mahorcic, Illinois State – enters portal – 9.9 ppg
Issac McBride, Vanderbilt – transfers to Oral Roberts – 4.7 ppg
Justin Minaya, South Carolina – transfers to Providence – 7.0 ppg
Eric Moenkhaus, Denver – enters portal – 5.6 ppg
Jamir Moultrie, NC Central – transfers to Western Carolina – 9.7 ppg
Jeff Ngandu, Seton Hall – enters portal – N/A
UMBC – Darnell Rogers & Keondre Kennedy withdraw from portal, will return next season
Davion Warren, Hampton – tweeted in the morning that he was decommitting from transfer to Memphis, but follow-up with a reporter said he was still committed but hasn't made a decision yet, (later in the day Tyler Harris committed, which could be related), then tweeted again in the afternoon he was decommitting – 21.2 ppg
Kamari Williams, Boston College – transfers to Miami OH – 2.6 ppg