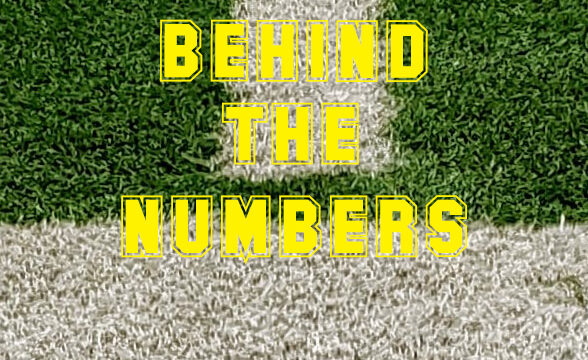 Tweet
Some of these 16 stats after Week 5 are just for trivia, but most are good to know as you look at fantasy trends/leaders across the season or look for specific positions or teams to focus on or avoid.
As we are now in the middle of the season the stats this week are a mix of players who had big week 5s, players who have had multiple games with strong statistical output, and a few outstanding as well as some not so good team stats. When I put these together I always find at least a few players stand out to me who I knew were playing well but didn't realize were really excelling to a certain degree (at least statistically), this week those guys were Coastal Carolina QB Grayson McCall and East Carolina RB Keaton Mitchell. I hope a few jump out to you as well.
Through five games Clemson has thrown a total of four TD passes. WR Justyn Ross is the only player currently on the Clemson roster with a TD catch this season, with three. The other TD catch was by RB Lyn-J Dixon who has since entered the transfer portal. Last season the Tigers had 11 different players with a TD reception. Clemson has a problem…
The Pac 12 team who won with less than 50 yards passing – In Oregon State's 27-24 win over Washington last weekend Chance Nolan was 7/15-48-0 passing. Only one receiver had at least two receptions (Zeriah Beason, 2/9) and the leading receiver by yardage was Anthony Gould (1/22). While they only had 48 yards passing, they had 242 yards rushing.
Louisville QB Malik Cunningham has rushed for 2 TDs in all five games he has played this season. Two players have four games with two rushing TDs – RB BJ Baylor (Oregon State) and RB Jaren Mangham (South Florida).
Among the bottom five teams in passing yards per game after week 5 includes four option teams and Colorado, who is 127th in the nation with only 100.4 yards per game. Colorado was hit with the surprise transfer of QB Sam Noyer to Oregon State this summer, then the season-ending knee injury to QB JT Shrout in late August. Starting QB Brendon Lewis is 48/90-475-2 over five games, and their only receiver with over 100 yards is TE Brady Russell (9/124-0).
Florida State QB Jordan Travis threw for 22/32-131-2 last weekend against Syracuse, 5.95 yards per completion. He was the first QB this season to have 20+ completions but throw for less than 135 yards. Georgia QB JT Daniels previously had a 22/30-135-0 game.
Since volume matters for RBs, three RBs had 35 rushing attempts in week 5 – Brian Robinson (Alabama, 36/171-4), Jaylen Warren (Oklahoma State, 36/125-2), and Bijan Robinson (Texas, 35/216-2). The only higher total this season was Sincere McCormick (UTSA, 41, revised from 42). Warren became the only player with two 32 carry games this season, and Warren's 3.5 yards per carry was the lowest average of any player with a 30 carry game this year.
Only five times this season has a QB passed for 150 yards and rushed for 125 yards in a game, and two of those were in week 5 – Liberty's Malik Willis (287 pass, 144 rush) and Syracuse's Garrett Shrader (150 pass, 137 rush).
There were six 200 yard rushing games in week 5 – Chase Brown (Illinois, 26/257-2), Keaton Mitchell (East Carolina, 15/222-2), Tyler Allgeier (BYU, 22/218-3), Bijan Robinson (Texas, 35/216-2), Logan Wright (Georgia Southern, 10/208-2) and De'Montre Tuggle (Ohio, 17/201-1). There had only been nine 200 yards games prior to this week. Of all 15 games this season, Wright had the fewest carries (10) and the highest yards per carry (20.8), while Bijan Robinson had the fewest yards per carry (6.2).
Kansas State RB Deuce Vaughn became the first player this season to have a game with 15 rushing attempts and 10 receptions, with a 15/51-0, 10/104-1 game against Oklahoma. Next closest is Missouri RB Tyler Badie who had a 14/61-0, 10/88-1 game against Kentucky earlier this season.
In Wisconsin's 38-17 loss to Michigan last weekend, the Badgers did not have a player rush for 20 yards. Jalen Berger (8/13), Chez Mellusi (6/13), Braelon Allen (5/19) and WR Kendric Pryor (2/17) and Isaac Guerendo (2/7) came closest. They were 32/43 total as a team on the ground.
Coastal Carolina QB Grayson McCall leads the nation both in passing percentage (80.2%) and yards per pass attempt (12.9). Oklahoma QB Spencer Rattler is second in percentage (76.3%) and Liberty QB Malik Willis is second in yards per pass attempt (10.5).
Only two teams in the country are averaging less than 70 rushing yards per game – Mississippi State (56.2) which is understandable in their high-volume passing offense, and Bowling Green (47.2). Bowling Green's leading rusher after five games is RB Jaison Patterson (39/120-1, a 3.1 average).
Through five games this season SMU QB Tanner Mordecai has thrown 24 TDs. Next closest, a full five TDs behind, is Pitt QB Kenny Pickett with 19. Only 10 QBs have thrown even 13+ TD passes on the season, meaning Mordecai has twice as many as the #11 ranked TD passer on the season. Mordecai has thrown for at least 4 TDs in all five games he has played this season.
Western Kentucky WR Jerreth Sterns set a season-high with 17 receptions in a game, putting up 17/186-1 against Michigan State. The previous high was 14 by Jalen Cropper (Fresno State) and Emeka Emezie (NC State), which was also reached in week 5 by Hassan Beydoun (Eastern Michigan, 14/167-0). Beydoun was the first to have 14 receptions in a game this season without also catching a TD in the game.
Among the top 100 receivers by yardage so far this season (at least 292 yards) there are 5 tight ends – Trey McBride (Colorado State, 36/398), Sean Dykes (Memphis, 22/391), Michael Mayer (Notre Dame, 32/360), Greg Dulcich (UCLA, 16/313) and Gerrit Prince (UAB, 15/299).
Among the top 50 rushers by yardage so far this season (at least 384 yards) there are 5 QBs, the highest being 33rd of 50 – Emory Jones (Florida, 70/438), Christian Anderson (Army, 58/431), Haaziq Daniels (Air Force, 71/419), Malik Willis (Liberty, 66/418), and Adrian Martinez (Nebraska, 80/412).
Credit to the CFB Reference and cfbstats.com sites for their stat-keeping, if you see any stats you feel are incorrect please let me know.