Tag:
college football dfs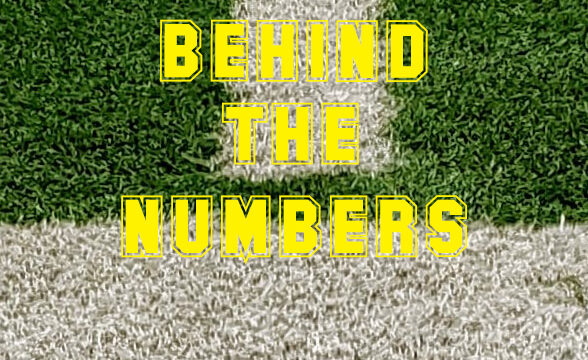 Tweet
Some of these 16 stats after Week 9 are just for trivia, but most are good to know as you look at fantasy trends/leaders across the season or look for specific positions or teams to focus on or avoid.
As we are now in the middle of the season the stats this week are a mix of players who had big week 9s, players who have had multiple games with strong statistical output, and a few outstanding as well as some not so good team stats. When I put these together I always find at least a few players stand out to me who I knew were playing well but didn't realize were really excelling to a certain degree (at least statistically), this week they were Miami QB Tyler Van Dyke and Missouri RB Tyler Badie. I hope a few jump out to you as well.
Miss State QB Will Rogers completed 36 of 39 passes against Kentucky on Saturday (92.3%). It was the first time this season a player had a 90% completion percentage when throwing at least 30 passes.
Syracuse RB Sean Tucker leads the nation in 100 yard rushing games with 8, next closest with 6 are Mataeo Durant (Duke), Sincere McCormick (UTSA), and Bijan Robinson (Texas). Tucker has run for 100 in 8 of his 9 games, the only time falling short was a 13/54 game against Rutgers on September 11.
Minnesota has had 5 different players this season with 100 yard rushing games – Mohamed Ibrahim, Treyson Potts, Bryce Williams, Ky Thomas, and Mar'Keise Irving have all crossed the century mark. Ibrahim, Potts and now Williams all have suffered season-ending injuries.
Of the top 5 passing completion % leaders with at least 100 passes thrown, two come from the same school – Will Rogers (Miss State, 75.2%), Spencer Rattler (Oklahoma, 75.0%), Grayson McCall (Coastal Carolina, 73.4%), Brock Purdy (Iowa State, 73.3%), and Caleb Williams (Oklahoma, 71.6%).
Miami QB Tyler Van Dyke has thrown for 25/33-325-4 and 32/42-426-3 the past two weeks. Only six QBs in the nation have at least two games this season with 300-3 with at least a 75% completion rate. The other five are Carson Strong (Nevada, 4), Will Rogers (Miss State, 3), Jake Haener (Fresno St, 2), Tanner Mordecai (SMU, 2), and Bailey Zappe (Western Kentucky, 2).
Since volume matters for RBs, two players had 30 rushing attempts in week 9 – Dylan McDuffie (Buffalo, 34/166-2) and Tyler Badie (Missouri, 31/254-2). McDuffie's previous season-high carry total was 23 which he'd done twice.
There were zero 200 yard receiving games in week 9 – this is the first week that has happened since week 5. The high total for the week was 187 by Virginia Tech's Tre Turner.
There were four 200 yard rushing games in week 9 – Tyler Allgeier (BYU, 29/266-5), Tyler Badie (Missouri, 31/254-2), Sean Tucker (Syracuse, 26/207-1), and Keaontay Ingram (USC, 27/204-1). It was Allgeier's 2nd 200 yard game this season while Badie became the first player to hit 200 three times.
Only six QBs have multiple games with both 100+ yards passing and rushing – Sam Howell (UNC, 4), Garrett Shrader (Syracuse, 3), Adrian Martinez (Nebraska, 2), Nick Nash (San Jose State, 2), Jordan Travis (Florida State, 2) and Malik Willis (Liberty, 2).
To show TEs some love, there are 5 in the top 100 receiving yardage leaders – #16 Trey McBride (Colorado State, 740), #39 Derrick Deese (San Jose State, 634), #46 Isaiah Likely (Coastal Carolina, 609), #61 Cole Turner (Nevada, 571), and #100 Greg Dulcich (UCLA, 477).
Colorado State RB David Bailey ran for 21/37-0 against Boise State last weekend. It was the fourth time this season a player had 20 rushes with less than 40 yards this season, but was the first time a RB had done it, with the other three times by QBs.
Excluding the service academies, Ole Miss leads the nation (actually third) in rushing yards per game with 249.8, a total of 1999 yards. But what stands out to me is they don't have a player with more than 519 rushing yards, their leaders are QB Matt Corral (519), RB Henry Parrish (462), RB Snoop Conner (434) and RB Jerrion Ealy (323).
Western Kentucky WR Jerreth Sterns was held to 10/89-1 receiving on Saturday, but he was still the team's leading receiver, outgaining Mitchell Tinsley by one yard (6/88-1). Sterns has impressive led the team in receiving yardage in all eight games this season.
Virginia Tech RB Malachi Thomas has led the team in rushing each of the past two weeks, with games of 21/151-3 and 25/103-0. Prior to these two games his season high carries/yards had been a 6/33 game. He is already the second-leading rusher for the Hokies this season with 302 yards, trailing only Raheem Blackshear (355).
Wake Forest is the only team to score at least 35 points in each of their games this season.
It may seem like I pick on Colorado a lot, but their offense is just impressively bad, especially for a power 5 conference team. They are last (130th) in the nation in total yards, but that breaks down to being 127th in the nation in total passing yards, and 108th in the nation in rushing yards. Their leading rusher on the season is Jarek Broussard (359 yds) and receiver is Brenden Rice (280 yds).
Credit to the CFB Reference and cfbstats.com sites for their stat-keeping, if you see any stats you feel are incorrect please let me know.