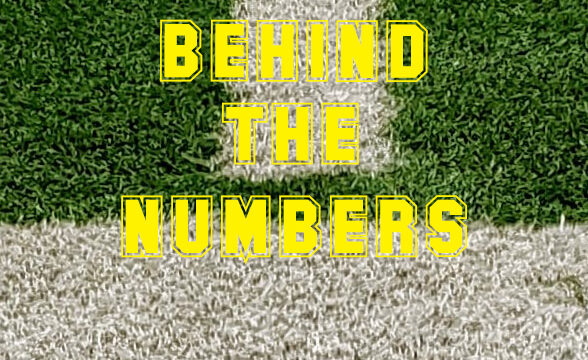 Tweet
Some of these 16 stats after Week 7 are just for trivia, but most are good to know as you look at fantasy trends/leaders across the season or look for specific positions or teams to focus on or avoid.
As we are now in the middle of the season the stats this week are a mix of players who had big week 7s, players who have had multiple games with strong statistical output, and a few outstanding as well as some not so good team stats. When I put these together I always find at least a few players stand out to me who I knew were playing well but didn't realize were really excelling to a certain degree (at least statistically), this week those guys were UNC WR Josh Downs, Ole Miss QB Matt Corral (the rushing!), and Nevada TE Cole Turner. I hope a few jump out to you as well.
North Carolina WR Josh Downs has 60/837-8 receiving this season through 7 games. No other Tarheel has more than 16 receptions or 253 receiving yards. Downs has caught 45.8% of their completed passes and has 43.9% of their receiving yards.
There are 5 QBs averaging 40 passing attempts a game, and I bet you can't guess one of them – Will Rogers (Miss State, 56.5), Bailey Zappe (Western Kentucky, 49.5), Brennan Armstrong (Virginia, 47.0), Carson Strong (Nevada, 41.0), and Jonah Johnson (New Mexico State, 40.5). Johnson is tied for 10th in the nation in total passing attempts, but is 48th in passing yards (1449).
Nevada TE Cole Turner had 12/175-0 receiving last weekend against Hawaii on an impressive 20 targets, especially for a tight end. There have only been seven 12/175 receiving games this season, and Turner was the first tight end. Three of those seven games were by Western Kentucky's Jerreth Sterns.
Only two players in the nation have six 100 yard rushing games – Texas RB Bijan Robinson and Syracuse RB Sean Tucker. Tucker is 2nd in the nation in rushing yards (948) and Robinson is 3rd (924), both trailing only Michigan State's Kenneth Walker, who has topped 100 yards in four of his seven games.
In the rough QB performance of the week, New Mexico QB CJ Montes, who was filling in for an injured Terry Wilson, threw for 3/19-11-0, with 2 interceptions. Montes was the first QB this season to throw 15+ passes in a game but throw for less than 30 yards. Three other times a QB has 15+ passes and less than 40 yards passing, one of those by Montes' injured teammate Terry Wilson.
Since volume matters for RBs (and a QB this week), five players had 30 rushing attempts in week 7 – Tyrion Davis Price LSU, 36-287-3), Jevyon Ducker (Northern Illinois, 33/210-0), Jaylen Warren (Oklahoma State, 33/193-0), Breece Hall (Iowa State, 30/197-2), and Matt Corral (Ole Miss, 30/195-0). Warren is the first player this season with three 30+ carry games, and Corral was the first QB to hit 30.
There were two 200 yard receiving games in week 7 – David Bell (Purdue, 11/240-1), and Jerreth Sterns (Western Kentucky, 13/221-1). It was Sterns' highest total so far of his impressive season.
There were three 200 yard rushing games in week 7 – Tyrion Davis-Price (LSU, 36/287-3), Charles Williams (UNLV, 27/221-3), and Jevyon Ducker (Northern Illinois, 33/210-0). Price's 287 yards was the most of any player this season, while Ducker was the first player to rush for 200 this season without also rushing for a TD.
Fresno State QB Jake Haener had thrown for at least 298 yards in his first six games of the season, four times passing for 375 or more. But in week 7 Haener was 15/28-96-2 against Wyoming. Haener was reported to have suffered an ankle injury at the end of the Hawaii game before the bye, and was in a boot during the bye week before playing last weekend. This is something to keep an eye on, whether it was just an off game or if he is perhaps being limited by an injury.
In Northern Illinois' 34-26 win over Bowling Green on Saturday they rushed for 320 yards while only passing for 38 yards. QB Rocky Lombardi was 4/8-38-1 passing. Northern Illinois averages 139 passing yards a game (124th in the nation) and 238 rushing yards a game (11th in the nation), and has five different players with over 200 rushing yards this season.
Only four players have totaled both 250 rushing yards & 250 receiving yards this season – Missouri RB Tyler Badie (743/265), Fresno State RB Ronnie Rivers (493/254), Arizona State RB Rachaad White (477/251) and Georgia Tech RB Jahmyr Gibbs (279/301).
Only two teams in the country are averaging more than 8 yards per play – Coastal Carolina (8.82) and Ohio State (8.55). Conversely, only two teams in the nation average less than 4 yards per play – Louisiana-Monroe (3.95) and New Mexico (3.99).
Western Kentucky WR Jerreth Sterns could basically get his own article with the numbers he is putting up this season. He leads the nation with 962 receiving yards, an average of 160.3 a game, 20 more than the 2nd highest (Drake London, USC, 138.7). Sterns also leads the nation in receptions per game with 11.5. He has more receiving yards on the season than 8 teams have total passing yards.
Kentucky RB Chris Rodriguez has averaged 6.7 yards a carry over his four season career. The fewest yards he had averaged per carry this season against an FBS opponent was 5.2, but against Georgia on Saturday he had 7 rushes for 7 total yards (1.0 avg). That was the lowest yardage total of his 26 game career.
Texas Tech beat Kansas 41-14 on Saturday, yet only had one player with more than 40 rushing yards (RB SaRodorick Thompson, 13/83-0), and only one player with more than 40 receiving yards (WR Erik Ezukanma, 5/76-0). The knee-jerk reaction when seeing a blowout like that might be that a few players had huge days, but Texas Tech had 10 different players with a rushing attempt, and 8 different players with a reception.
The most total rushing yards this season without a rushing TD ? – Baylor RB Trestan Ebner has run for 496 yards, 54th in the nation, but has no rushing TDs. He is the only player in the top 100 in rushing yards without one, but he does have one receiving TD.
Credit to the CFB Reference and cfbstats.com sites for their stat-keeping, if you see any stats you feel are incorrect please let me know.