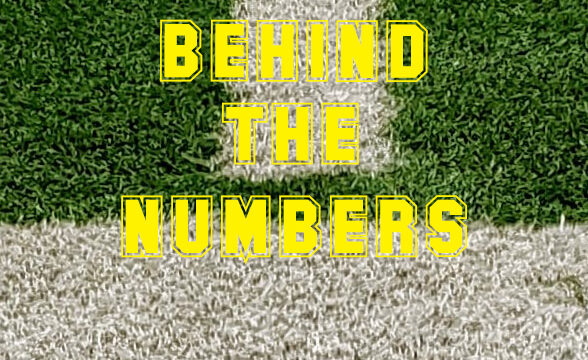 Tweet
Some of these 16 stats after Week 8 are just for trivia, but most are good to know as you look at fantasy trends/leaders across the season or look for specific positions or teams to focus on or avoid.
As we are now in the middle of the season the stats this week are a mix of players who had big week 8s, players who have had multiple games with strong statistical output, and a few outstanding as well as some not so good team stats. When I put these together I always find at least a few players stand out to me who I knew were playing well but didn't realize were really excelling to a certain degree (at least statistically), this week those guys were Northern Illinois RB Jevyon Ducker, Illinois RB Chase Brown, and Nevada WR Romeo Doubs. I hope a few jump out to you as well.
Wake Forest QB Sam Hartman threw for 23/29-458-5 against Army last weekend. He was the first QB this season to pass for 450 yards with less than 30 pass attempts (FIU's Max Bortenschlager threw for 466 on 30 attempts). The only other QB to hit those numbers in the last five years was Liberty QB Stephen Calvert in 2019.
There are 5 RBs averaging 120 rushing yards a game: Kenneth Walker (Michigan State, 142.4), Sean Tucker (Syracuse, 132.5), Bijan Robinson (Texas, 132.0), Mataeo Durant (Duke, 124.7), and DeAndre Torrey (North Texas, 121.8). Torrey is doing it for a 1-6 North Texas team.
Nevada QB Carson Strong passed for 49/61-476-4 against Fresno State. According to his coach Jay Norvell, Strong was the first FBS QB to throw 60 passes and complete at least 80% of them in a game since the year 2000.
Georgia leads the nation in team defense yardage allowed, with only 208.3/game, with the next lowest being Wisconsin at 223.0. The worst is Arkansas State allowing 578.6/game, with the next worst being UMass at 495.9, still an impressive 82 yards better than last.
Marshall QB Grant Wells had six rushing attempts for four yards and 3 TDs in week 8. While QB rushing numbers can sometimes be skewed, he is the only player this season to have 3 rushing TDs with less than 10 rushing yards. Next lowest is Eastern Michigan RB Samson Evans with a 5/11-3 game.
Since volume matters for RBs, four players had 30 rushing attempts in week 8 – Chase Brown (Illinois, 33/223-1), Tyler Allgeier (BYU, 32/191-2), Jevyon Ducker (Northern Illinois, 31/183-0), and David Bailey (30/159-2). Ducker became the first player with 30 carries in a game in back to back weekends.
There were two 200 yard receiving games in week 8 – Malik Williams (App State, 10/206-1) and Romeo Doubs (Nevada, 19/203-1). It has happened eleven times this season, and the previous high number of catches had been 13.
There were two 200 yard rushing games in week 8 – Chris Smith (Louisiana, 24/238-2) and Chase Brown (Illinois, 33/223-1). It was Brown's second 200 yard game this season, and he became the first player this season to do it twice in the same month.
Syracuse QB Garrett Shrader threw for 16/34-236-2 and ran for 22/174-3 in week 8. He is the only player to hit those yardage and TD numbers this season, the last to do so being Jalen Hurts for Oklahoma in 2019 with a 332-3, 176-3 game.
In Colorado's 26-3 loss to Cal, RB Jarek Broussard led the Buffaloes in both rushing yards (11/28) and receiving yards (3/30-0). While those numbers are really low, what is surprising is that only one other player on the Buffs had double digit rushing or receiving yards, TE Brady Russell with 2/18. Colorado fired their offensive line coach after the game.
Kansas State RB Deuce Vaughn has 583 rushing yards on the season, as well as 302 receiving yards. Vaughn leads the Wildcats in rushing by 345 yards, and is second in receiving, trailing WR Phillip Brooks (316) by only 14 yards.
Only one team in the country has not scored 10 TDs on the season – Arizona has 9. Next lowest are Vanderbilt with 11 and Southern Miss with 12. The fewest field goals in the nation is Tulane with only 2, Rice and Liberty are next lowest with 3.
Nevada WR Romeo Doubs set the season high for catches in a game with 19, beating the previous high of 17 by Jerreth Sterns (Western Kentucky). The last time a player had more than 19 catches in a game was Zay Jones (East Carolina) who had a 22 catch game in 2016.
Oregon RB Travis Dye had 4 rushing TDs in week 8, tying a season-high as the 11th player to do so. Dye ran for 14/35-4, a 2.5 average, and had the fewest rushing yards of any player with a 4 TD game, the previous low being 59 yards (Isaiah Bowser, UCF and Rasheen Ali, Marshall).
Wake Forest beat Army 70-56 last weekend. Amazingly Wake Forest's time of possession was only 17:17 as compared to Army's 42:43. Wake Forest had more yards than Army (638 to 595) but not as many first downs (22 to 31).
There are only 62 power 5 conference players with 25 catches and 350 receiving yards this season, Virginia has five of them, and Ohio State (three) is the only other team with more than two players at those numbers (credit David Hale).
Credit to the CFB Reference and cfbstats.com sites for their stat-keeping, if you see any stats you feel are incorrect please let me know.