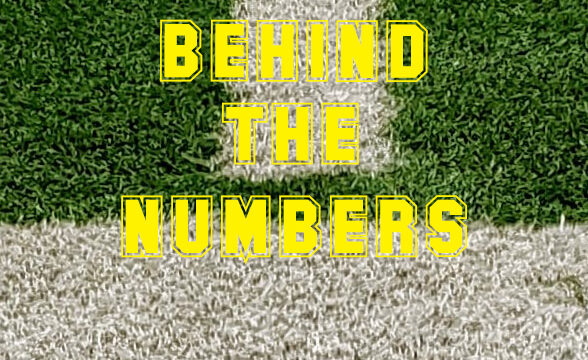 Tweet
Some of these 16 stats from Week 12 are just for trivia, but most are good to know as you look at fantasy trends/leaders across the season or for specific positions or teams.
Army QB Tyhier Tyler was the surprise starter on Saturday against Georgia Southern, and he made the most of the opportunity rushing 35 times for 121 yards. Tyler had the season-high for QB carries in a game.
Purdue WR Rondale Moore had 15/116-0 in his season debut. It was only the fifth time this season a player had 15+ receptions in a game, and 15 was a career-high for Moore, surpassing a 13 catch game in 2019.
On Saturday Penn State's leading rusher was QB Will Levis with 15/34. On the season the 3 leading rushers after five games are (combined stats): QB Sean Clifford (64/182 – 2.8 avg), RB Devyn Ford (56/209 – 3.7 avg) and QB Will Levis (35/96 – 2.7 avg). They have lost some major RB pieces, but they can't run the ball.
Amongst QBs with at least two games played, only 3 are averaging more than 75 rushing yards a game – Malik Willis, Liberty (93.0), Hendon Hooker, Virginia Tech (89.6), and Luke McCaffrey, Nebraska (79.5).
Pitt WR DJ Turner caught 15/184-1 on 20 targets last weekend. Turner has played in 9 games this season, in five of those games he has 12 yards receiving or less, and in two he has had 180+ yards.
Since volume matters, three players had 30+ rushing attempts this week – QB Tyheir Tyler, Army (35/121) RB Demetric Felton, UCLA (34/167) & RB Sincere McCormick, UTSA (32/173).
Western Michigan WR D'Wayne Eskridge had 4/212-3 receiving against CMU last week. It was the first time this season a MAC player had more than 140 yards receiving, and it was the first time this season a player from any conference had 200 yards receiving with fewer than 5 catches.
Wisconsin QB Graham Mertz has thrown for 23/41 and 12/22 in his last two games (combined – 35/63 – 55.6%) after having the near-perfect 20/21 game (95.2%) in the season opener.
Rice WR Austin Trammell had 6/116-1 receiving last weekend, and over 3 games this season has 16/335-6 combined, an average of 5.3 catches, 111.7 yards, and 2 TDs a game.
Indiana QB Michael Penix threw for 491-5 against Ohio State on Saturday. Penix is the only Indiana QB to throw for 400 yards and 5 TDs in a game since 2000. The last Indiana QB to throw for 400 yards was Richard Lagow in 2017.
UMass scored 2 points Friday against FAU, and has scored 12 total points in 3 games. After 3 games UMass leaders are: QB Will Koch (166 passing yards), RB Ellis Merriweather (100 rushing yards), and WR Samuel Emilus (81 receiving yards). Ouch.
Missouri RB Larry Rountree rushed for 21/58-1 against South Carolina. It was the 8th time this season a player had at least 20 rushing attempts with less than 60 rushing yards, and only the 5th time for a RB. The worst of any player this season was Hawaii QB Chevan Cordeiro with 20 attempts for 20 yards.
Georgia QB JT Daniels threw for 401-4 in his season debut. It was both the first 400 yard passing game and first 4 TD game of his career. His previous highs at USC in any game were 349 passing yards & 3 TDs (twice).
Buffalo RB Jarrett Patterson rushed for 31/304-4 last week, the first time a player rushed for 300 yards and 4 TDs since Arizona QB Khalil Tate's wild 14/327-4 game in 2017.
Western Kentucky RB Gaej Walker ran for 17-127-1 against FIU. I was tough on Walker at the start of the season, when in his first five games he never had more than 38 yards rushing. But in his last five games he's had 75+ yards four times, and is averaging 81 yards rushing a game.
Only 3 WRs are averaging 150 receiving yards per game – Romeo Doubs, Nevada (155.6), D'Wayne Eskridge, Western Michigan (152.3), and Elijah Moore, Ole Miss (150.6). No other receivers are averaging more than 130 yards per game.