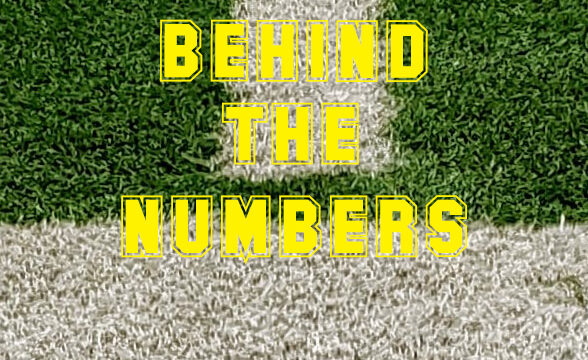 Tweet
I take a look at some key stats & fantasy takeaways that stood out from the 9 FBS teams that played last weekend. The "Stat to Know" from each team is bolded, as well as players who are mentioned.
It should be noted that a number of these games were blowouts of mismatched teams where starters didn't play full games, one game was against a lower division team, and also that just one game is a small sample size to make any grand observations, but it's what we've got so far, so here we go…
Fantasy Takeaways from Week Zero (teams listed in alphabetical order):
Fresno State – QB Jake Haener and the Bulldog passing offense could do anything they wanted against UConn, as Haener threw for 20/26-331-3 before leaving the game with cramping issues in the third quarter. The passes were really spread around, with only WR Erik Brooks having more than 3 catches (5/61-0).
Hawaii – Not a lot to like here as Hawaii lost 44-10 to UCLA. QB Chevan Cordeiro, usually considered a dual-threat, had 220-1 passing but was limited to 9/11-0 on the ground. No Hawaii player rushed for more than 20 yards (RB Dae Dae Hunter, 7/20-0). Hunter also led the team with 7 receptions, but for only 19 yards with a lot of dumpoffs. A player who continues to disappoint is WR Jared Smart (1/9-0). In 2019 Smart caught 87/1129-5, but in 2020 in nine games he pulled in 36/320-1. I'd like to see him return to 2019 levels but not encouraged so far.
Illinois – QB Brandon Peters only threw four passes before getting injured, but Rutgers transfer QB Art Sitkowski had a really efficient day, 12/15-124-2. The surprise of the day was that with RB Chase Brown limited, RB Mike Epstein was the leading rusher with 16/75-1, a 4.7 avg. Assuming Brown returns to full-speed soon I'm not sure if this becomes more of a committee approach, especially if the Peters injury causes him to miss time and the ground game becomes even more of a focus.
Nebraska – QB Adrian Martinez ended up totaling decent numbers with 232-1 passing and 17/111-1 rushing, but the 16/32 passing is an ugly percentage. WR Oliver Martin (6/103-1) was the only player with more than 40 yards receiving. But to me the key stat was that other than Martinez, no player rushed for more than 33 yards (RB Gabe Ervin – 12/33-0), and no RB averaged better than 3.3 yards per carry. Nebraska has a problem.
New Mexico State – As a team they were 9/33 passing for 89 yards and 0 TDs, 2.7 yards an attempt. QB Jonah Johnson was 8/24-82 while QB Weston Eget put up 1/9-7. As a team rushing they were a collective 34/101-0, a 3.0 average. No player had more than 37 yards rushing (RB Juwaun Price) or 31 yards receiving (Missouri transfer WR Dominic Gicinto).
San Jose State – Playing against FCS Southern Utah, QB Nick Starkel had his way throwing for 16/27-394-4. Interestingly, no player had more than 3 receptions, with WR Charles Ross (3/77-1) and TE Derrick Deese (3/72-1) leading the way. Three other players also had 50+ yards receiving.
UCLA – Hawaii couldn't stop the UCLA rushing attack, as RB Brittain Brown put up 13/78-1, while Michigan transfer RB Zach Charbonnet ran for 6/106-3, a huge 17.7 average. Only one UCLA player had more than 21 yards receiving – RB Kazmeir Allen with 2/47-1 receiving. Bruin WRs totaled only 5 catches for 38 yards, which makes me a little hesitant to play any of their WRs until I see some more game action.
UConn – QB Jack Zergiotis got the start but UConn was overmatched and Zergiotis threw for 12/24-61-0, an awful 2.5 yards per attempt. The shared backfield approach was somewhat of a surprise with RB Kevin Mensah (11/31-0), and RB Nathan Carter (8/10-0). In 2019 Mensah had 226 carries in 12 games, an 18.8 carries/game average. Whether that is somewhat of a philosophy change to share carries or was a byproduct of nothing working Saturday is to be seen.
UTEP – WR Jacob Cowing was the standout, hauling in 5/158-1, which was 63% of the team's 249 passing yards. New Mexico State couldn't slow UTEP down, as UTEP had three different players with 50+ yards rushing – RB Deion Hankins (11/50-1), Ronald Awatt (11/74-1) and Quardraiz Wadley (6/51-0), although Wadley's yards came in mopup time.
Enjoy this article? Subscribe to College Fantasy Update to get all the content!