Tag:
college basketball waivers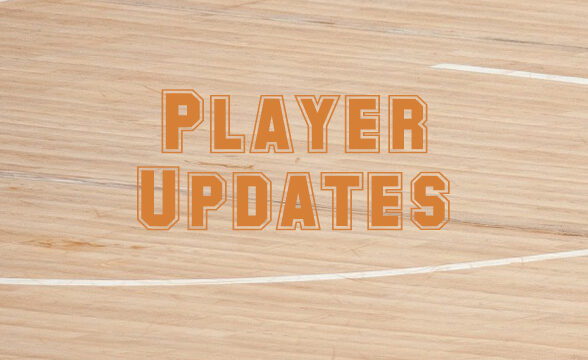 Tweet
On Wednesday Jamison Battle (George Washington, 18.4 ppg) did not play due to a concussion suffered in practice, Manny Bates (NC State) was out with an ankle injury, Carter Whitt (Wake Forest) was in a walking boot, Hunter Thompson (Wyoming) was out after dealing with an ankle injury, Cairo McCrory (UMass) did not play for undisclosed reasons, Chris Moore (Auburn) was out with a sprained wrist.
Cam Thomas (LSU) started after being a GTD with an ankle injury, Derrick Alston (Boise State) started after getting banged up last game, Casey Morsell (Virginia) returned to action after being out for covid reasons, & RJ Blakney was back for Dayton.
KD Johnson (Georgia) made his season debut after eligibility issues and had 21 points off the bench, while Charles Minlend (Louisville) made his debut after a knee injury.
In Wednesday in-game injuries, Scottie Barnes (Florida State) left the game in the second half with a turned ankle. Craig Porter (Wichita State) suffered a knee injury and was held out the rest of the game as a precaution.
In injury updates, James Bouknight (UConn) is out indefinitely after having elbow surgery. Jordan Bruner (Alabama) is out indefinitely after undergoing a procedure for a meniscus injury. Herb Jones (Alabama) is reportedly hoped to only be out a game or two with a finger injury. Keith McGee (New Mexico) opted out of the rest of the season.
Armaan Franklin (Indiana) is a gametime decision Thursday while Noah Williams (Washington State) is questionable. Marcus Zegarowski (Creighton) was described as day to day, and Cliff Omoruyi (Rutgers) has begun doing limited work in practice. Dallas Walton is out Thursday for Colorado, but teammate is Keeshawn Barthelemy is a GTD. Branden Carlson (Utah) expects to play Thursday.
(Injuries & Updates in the first section, Transfers down below.)
Injuries and Updates from Jan 13:
Emmanuel Akot, Boise State – DNP again (Achilles)
Derrick Alston, Boise State – started after leaving last game w/injury
Scottie Barnes, Florida State – did not start (11 pts/13 mins), limped off in 2nd half when the game was out of hand and did not return to action with a turned ankle, in postgame was said to have had a little strain and some tightness which had kept him out of practice and thus he didn't start
Jamison Battle, George Washington – DNP, concussion
Manny Bates, NC State – DNP, ankle
James Bouknight, UConn – out indefinitely after having elbow surgery on Tuesday, some reports are 2-4 weeks
Jordan Bruner, Alabama – out indefinitely (perhaps a month) after a procedure for a meniscus injury, is expected to return this season
Branden Carlson, Utah – expects to play Thursday (ankle)
Colorado – Dallas Walton is out Thursday but hopeful for Saturday, Keeshawn Barthelemy is a GTD Thurs. after injury Monday
Creighton – Marcus Zegarowski is day to day (hamstring), Shereef Mitchell should return to practice Thursday (ankle)
Javian Davis, Miss State – DNP (expected, covid protocols)
Dayton – RJ Blakney returned to action (0 pts/2 mins), Luke Frazier warmed up but DNP
Armaan Franklin, Indiana – is not 100%, a GTD for Thursday
KD Johnson, Georgia – season debut (eligiblity) – 21 pts/30 mins
Xavier Johnson, George Mason – returned to action – 0 pts/14 mins
Herb Jones, Alabama – hoped to only be out a game or two (finger)
Ricky Lindo, George Washington – Maryland transfer started in season debut – 13 pts/12 rebs/30 mins
Louisville – Aidan Igiehon DNP again (groin), Charles Minlend made his season debut – 0 pts/1 minute
Keith McGee, New Mexico – opts out of the season – 5.9 ppg
Brendan Medley-Bacon, VCU – DNP (covid protocols)
Michigan State – Mady Sissoko & Steven Izzo tested positive for Covid four days ago
Chris Moore, Auburn – DNP, sprained wrist
Shareef O'Neal, LSU – DNP again (foot)
Ohio State – Ibrahima Diallo, CJ Walker, & Jimmy Sotos DNP again
Cliff Omoruyi, Rutgers – has begun non-contact practice work
Craig Porter, Wichita State – held out after playing 6 minutes with an knee injury as a precaution
Justin Powell, Auburn – DNP again (concussion)
Texas – Jase Febres, Kamaka Hepa DNP again
Cam Thomas, LSU – started after being a GTD (ankle) – 13 pts/33 mins
Hunter Thompson, Wyoming – DNP, ankle, boot on left foot
UMass – Cairo McCrory & Dyondre Dominguez DNP
Virginia – Kody Stattmann & Kadin Shedrick DNP again, Casey Morsell returned (15 pts/24 mins) & Austin Katstra warmed up
Carter Whitt, Wake Forest – DNP, walking boot in pregame, rolled his ankle in shootaround
Noah Williams, Washington State – questionable for Thursday after injury (undisclosed) last game
Transfer Updates from Jan 13:
Sincere Carry, Duquesne – reportedly will transfer to Kent State
Eden Holt, UT Martin – enters transfer portal – 9.9 ppg