Tag:
college football injuries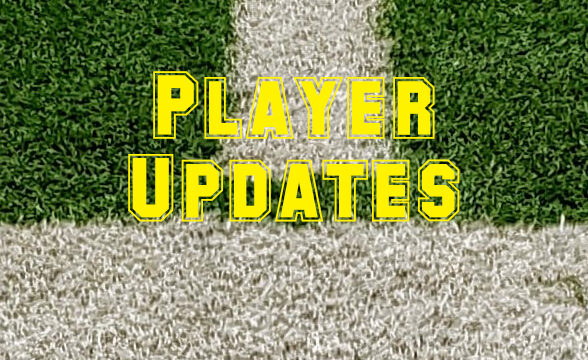 The player update post contains the biggest recent player news and does not currently require a CFU subscription.
The Core Four: four key updates
Boise State WR Latrell Caples will miss the season with a leg injury. Caples caught 51/549-4 last season, which led the team in receptions by 19 catches (Billy Bowens 32), led the team in receiving yards by 87 yards (Bowens 462), and was tied for the team lead in receiving TDs. Arguably the biggest injury surprise so far in the early preseason.
In Nebraska WR news, Marcus Washington (31/471-1 last season) was observed with his hand in a cast at fan day before practice started, then on Monday it was shared that he had broken a bone in his hand but would be getting the cast off next week and should be able to practice. Baylor transfer Josh Fleeks unfortunately showed up for preseason camp and was sent home to work on his conditioning and get in shape, with no clear timeline for return.
UConn QB Ta'Quan Roberson was full-go to start practice after going down with an ACL injury in week zero in 2022 which knocked him out the rest of the season and limited him in the spring. UConn also returns Zion Turner who passed for 1407 yards and 9 TDs with 10 interceptions and rushed for 90/262-1 after taking over for Roberson.
Utah QB Cameron Rising will be active in fall camp but will start out limited. Rising is expected to increase his load and potentially be full-go at some point during camp, but it's to be seen if he will be ready for the season opener. Brandon Rose is in the lead for QB2 but will battle Nate Johnson and Bryson Barnes.
Announcing transfer destinations included QB Will Haskell (San Diego State to Washington)
Updates from Jul 28-31:
QBs:
Arizona State – Trenton Bourguet took first snaps, Drew Pyne was next
Peter Delaportas, Boston College – is on the fall roster after entering the portal in April
Will Haskell, San Diego State – will transfer to Washington
Cam Rising, Utah – will be active in fall camp but will start out limited, hopeful to increase load and potentially be full-go at some point during camp, to be seen if he will be ready for opener
Ta'Quan Roberson, UConn – is full-go for preseason practice (ACL) after missing most of last season
RBs:
O'Shaan Allison, Ohio – is active in preseason practice (shoulder)
Chris Curry, Utah – has been cleared for fall practice and will be mostly full-go but will ease in (lower leg)
TreVonte Citizen, Miami – is not yet cleared, says he is taking it "day by day", plans to return to the field this season (knee)
WRs & TEs:
TE Elijah Arroyo, Miami – is practicing and says he is ahead of schedule (knee) and is hopeful to be ready for the season opener
Austin Bolt, Boise State – will be eased into camp, should be back by the middle of camp (leg)
Cam Camper, Indiana – is close to being full (ACL) and is expected to play in the opener
Latrell Caples, Boise State – is out for the season with a leg injury
TE Terrance Ferguson, Oregon – is cleared and expected to be full-go for fall camp after being held out for part of the spring due to injury
Horatio Fields, Wake Forest – is back for fall practice (ACL)
Josh Fleeks, Nebraska – Baylor transfer showed up to camp overweight and was sent home to get in shape, unclear his timeline for return
Florida – TE Dante Zanders was practicing after a minor shoulder injury in the spring, Thai Bowman, Eugene Wilson & TE Johnathan Odom (knee) were non-contact to start the fall
TE Zach Fryar, UTEP – is practicing this fall after missing the end of last season due to injury
TE Brant Kuithe, Utah – was said earlier in July that he has been cleared and is expected for the season opener but is not full-go yet, will be eased in (knee)
Mycah Pittman, Utah – Florida State transfer is practicing after missing the spring due to hip surgery
Jake Smith, Arizona State – USC transfer says he is full speed (foot)
Marcus Washington, Nebraska – right hand in a cast due to a broken bone, should get cast off next Monday and he'll practice in a splint after that
Cole Wright, Boise State – will be limited in training camp as he rehabs an injury
See For Yourself: