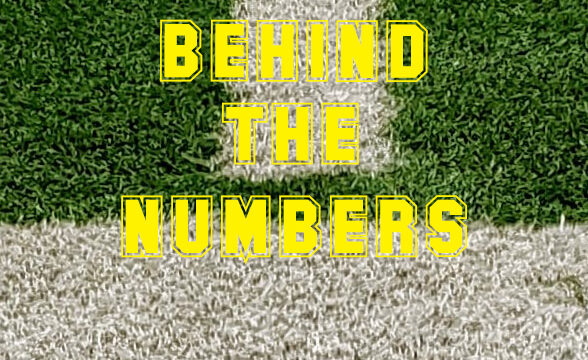 Tweet
Some of these 16 stats after Week 4 are just for trivia, but most are good to know as you look at fantasy trends/leaders across the season or for specific positions or teams.
Early in the season I like to find the players who have been consistently excellent, so lots of focus again this week on players who have had multiple games with strong statistical output, but certainly some explosive breakout stats mixed in as well. When I put these together I always find at least a few players stand out to me who I knew were playing well but didn't realize were really excelling to a certain degree (at least statistically), this week those guys were Louisville QB Malik Cunningham, Syracuse RB Sean Tucker, Fresno State WR Jalen Cropper, and Pitt WR Jordan Addison. I hope a few jump out to you as well.
Army defeated Miami, Ohio last weekend 23-10. What is unique is Army did not complete a single pass, QB Christian Anderson was 0-5 passing. Nine different players carried the ball for Army, totaling 63/384-3.
SMU QB Tanner Mordecai has four games throwing for at least 4 TDs, no one else in the nation has more than two four TD passing games.
The only QB who has 4 games this season with both a passing TD and a rushing TD? – Louisville's Malik Cunningham. Cunningham has actually rushed for 2 TDs in all four games he has played, with 5 total passing TDs. Five QBs have done it three times – Gerry Bohanon (Baylor), Austin Kendall (Louisiana Tech), Adrian Martinez (Nebraska), Chris Reynolds (Charlotte) and Malik Willis (Liberty)
Four RBs are averaging 130+ rushing yards a game – Kenneth Walker (Michigan State, 138.5), Sean Tucker (Syracuse, 134), Mataeo Durant (Duke, 131.25), and Chris Rodriguez (Kentucky, 130.5).
Looking for a high-volume QB? Only four QBs are averaging 40 pass attempts a game – Will Rogers (Miss State, 56.3), Brennan Armstrong (Virginia, 45.0), Carson Strong (Nevada, 40.7) and D'Eriq King (Miami, 40.7).
Since volume matters for RBs as well, two RBs had 30 rushing attempts in week 4 – Sincere McCormick (UTSA, 42/184-3), and Sean Tucker (Syracuse, 32/169-1). McCormick's 42 were easily a season-high, breaking the previous mark of 34 by Minnesota's Treyson Potts.
Only 4 receivers have at least 20 receptions on the season and average 20+ yards a catch – Jacob Cowing (UTEP), Jaivon Heiligh (Coastal Carolina), Dontayvion Wicks (Virginia) and Nick Mardner (Hawaii).
There were two 200 yard rushing games in week 4 – Army QB Christian Anderson (15/236-2) and Northwestern RB Evan Hull (22/216-2). Anderson was the first QB to reach 200 this season, and also did it in the fewest carries (15), with the next fewest being 22 (also Hull this week).
Fresno State WR Jalen Cropper was the first receiver to have a 4 TD receiving game, bringing in 10/108-4 against UNLV. There have been seven 3 TD receiving games, with an impressive two of those by Pitt's Jordan Addison.
Through week 4 there are three teams rushing for 300 yards a game – Air Force (357.25) and Army (344.5) are not a surprise based upon the offenses they run, but the third is Florida (322.5). Florida's top two leading rushers by yardage are their QBs, Emory Jones (57/375) and Anthony Richardson (11/275). Their leading RB is Malik Davis with (41/259).
Only one player has three games with 10+ receptions – USC's Drake London with games of 12/137, 13/170 and 10/165, plus one other game with 4/68. No player in the nation averages 10 receptions a game, London is at 9.8.
Four players have three games this season with 22+ rushing attempts – Sincere McCormick (UTSA), Treyson Potts (Minnesota), DeAndre Torrey (North Texas) and Harrison Waylee (Northern Illinois).
UNLV RB Charles Williams had 102 rushing yards and 96 receiving yards against Fresno State, the first with those numbers against an FBS team. The only other player with a 90/90 game this year is Syracuse RB Sean Tucker with a 132/121 line against Albany.
NC State WR Emeka Emezie tied the season-high for most receptions in a game with 14/116-1 against Clemson. Jalen Cropper also had 14 in week 3.
Five QBs have thrown 100+ passes this season but have 0 interceptions – Kaleb Eleby (Western Michigan, 121), Jack Plummer (Purdue, 118), Noah Vedral (Rutgers, 112), Bo Nix (Auburn, 103), Tanner McKee (Stanford, 102). Ironically Plummer and Nix are at risk of losing their starting jobs this week, perhaps they are being too conservative.
Only two teams are averaging 50 points scored a game – Ole Miss (52.7) is a not a surprise, but Pitt (52.5) I would not have guessed off the top of my head. Pitt has scored 51, 41, 41 and then 77 against New Hampshire in week 4. Pitt averaged 29.0 points a game last season.
Credit to the CFB Reference site for its stat-keeping, if you see any stats you feel are incorrect please let me know.