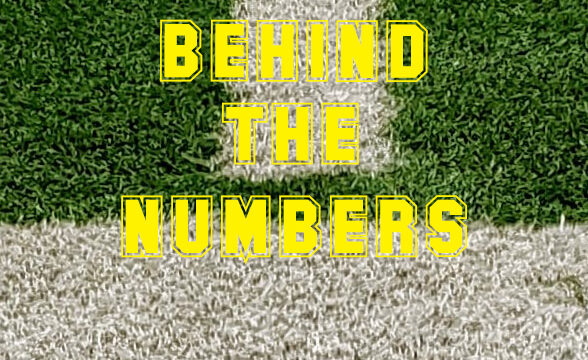 Tweet
Some of these 16 stats after Week 6 are just for trivia, but most are good to know as you look at fantasy trends/leaders across the season or look for specific positions or teams to focus on or avoid.
As we are now in the middle of the season the stats this week are a mix of players who had big week 6s, players who have had multiple games with strong statistical output, and a few outstanding as well as some not so good team stats. When I put these together I always find at least a few players stand out to me who I knew were playing well but didn't realize were really excelling to a certain degree (at least statistically), this week those guys were Missouri RB Tyler Badie and Memphis WR Calvin Austin. I hope a few jump out to you as well.
Syracuse QB Garrett Shrader became the first player this season with a 150 yard pass & 150 yard rush game, totaling 15/27-160-2 passing and 29/178-1 on the ground. Since 2016 a player hitting both of those numbers with at least 25 carries has only happened 7 times, with three of those being former Louisville QB Lamar Jackson.
TCU RBs Zach Evans and Kendre Miller had very effective rushing games against Texas Tech last week, with Evans (17/143-2) and Miller (12/185-3). It was only the second time this season a team had two players with 17 or less rushes both have 140 rushing yards, the other being Georgia Southern (Logan Wright/Jalen White).
Coastal Carolina TE Isaiah Likely had a 8/232-4 line last week, becoming only the 2nd player this season with 4 TD catches in a game (Fresno State WR Jalen Cropper), and the first tight end to have 3 or more receiving TDs in a game this season.
Virginia leads the nation in total passing yards (2477) and is 104th in the nation in rushing yards (678). This might not seem that unusual, but in 2020 Virginia was 32nd in the nation in passing yards and 43rd in rushing yards. While the games played is not even among all teams which skews the results slightly, the contrast is still stark. More unusual is that UVA has the same starting QB (Brennan Armstrong) and RB (Wayne Taulapapa) in both seasons yet such different results. One of the primary differences is that Armstrong rushed for 552 yards in 9 games last season, but in 2021 has rushed for only 44 yards in 6 games.
Penn State backup QB Ta'Quan Roberson was thrown into a difficult situation after starter Sean Clifford was injured last week against Iowa. Roberson went on to throw for 7/21-34-0. It was the second lowest passing yardage total for a QB with at least 20 attempts in a game this season, beaten in futility only by Terry Wilson (New Mexico) who had a 10/23-33 game earlier this year.
Since volume matters for RBs, three RBs had 33 rushing attempts in week 6 – Mataeo Durant (Duke, 43/152-1), Ellis Merriweather (UMass, 39/171-2), and Brad Roberts (Air Force, 33/140-1). Durant's 43 was a season-high for any player, while Merriweather's 39 was the third highest total. Durant's 3.5 average yards per carry was tied for the lowest average of any back with 30+ rushes in a game this season. A'Jon Vivens (Colorado State) had 31/114-0 this week, making Colorado State only the second school this season to have two different players with 30 attempts in a game, joining Minnesota (Ibrahim/Potts), David Bailey also had 30 in a game for Colorado State earlier this year.
There have only been seven 200 yard receiving games this season, and five of them happened in week 6 – Xavier Worthy (9/261-2), TE Isaiah Likely (Coastal Carolina, 8/232-4), Jalen Nailor (Michigan St, 5/221-3), Tyrese Chambers (Florida International, 3/201-2), and Calvin Austin (Memphis, 13/200-1). Austin was the first player to do it twice this season, and Worthy had the season high with 261 yards.
There were three 200 yard rushing games in week 6 – Kenneth Walker (Michigan State, 29/233-1), Kennedy Brooks (Oklahoma, 25/217-2) and Tyler Badie (Missouri, 17/217-2). It was the second 200 yard game of the season for both Badie and Walker, the only two players with two so far this year.
Florida International WR Tyrese Chambers caught 3/201-2 against Charlotte last week, a 67.0 yard per catch average. On the season Chambers has caught 20/672-2, a 33.6 average. Amongst players with 20 catches he is the only one averaging over 24 yards/catch, next is Jacob Cowing (UTEP, 23.42).
In MTSU's 41-13 loss to Liberty, they did not have a single player rush for 10 yards, as they went 21/35 rushing as a team. Seven different players had a carry, "leading the way" were QB Chase Cunningham (6/4), RB Chaton Mobley (4/8) RB Brad Anderson (3/7) and RB Frank Peasant (3/5).
Iowa State RB Breece Hall is the only player in the nation with three games with 100 rushing yards and 2 rushing TDs in the same game. Fifteen players have done it twice this year, all are RBs.
Only three teams in the nation have only had one passing TD on the season, two are option-oriented teams (Navy and Georgia Southern), the third is South Florida. USF is 116th (out of 130) in the nation in passing yards (927) but WR Xavier Weaver has caught their only TD.
Western Kentucky QB Bailey Zappe leads the nation in passing yard per game, with 447.0. Next in line are Brennan Armstrong (Virginia, 410.0), Will Rogers (Miss State, 372.4), Jake Haener (Fresno State, 371.7) and Kenny Pickett (Pitt, 346.2). So the difference between 1st and 5th place is 101 yards. To get another 101 yard drop you have to go from 5th place to 37th place.
Western Kentucky WR Jerreth Sterns had a 16/195-2 receiving game, one week after a 17/186-1 line. Sterns 33 receptions the last two weeks are more than three teams have for the season. WR Drake London (USC) had 16/162-1 last week, which tied Sterns for the second-most catches in a game this season.
Only 8 times this season has a player had 20+ rushes with less than 60 rushing yards in a game, and only one player has done it twice. In each of the last two weeks Navy QB Tai Lavatai has met the mark, rushing for (21/57) and (24/53). The 24 carries was the most by any player under 60 yards this season.
The most receiving yards this season without a TD reception? – Marshall's Corey Gammage (38/506). Next in line are Virginia's Keytaon Thompson (29/419) and West Virginia's Winston Wright (32/364).
Credit to the CFB Reference and cfbstats.com sites for their stat-keeping, if you see any stats you feel are incorrect please let me know.