Category:
College Football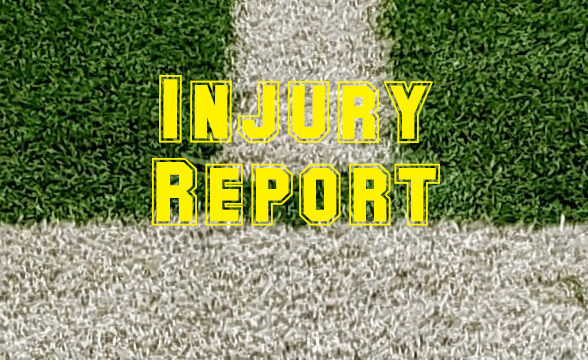 Tweet
I break down the injury news from this past weekend with notes on each player who may have been dealing with injuries.
A few notes about this list, being on it does not for sure mean a player is "injured", but rather:
They may have missed the game due to a known injury (ok, this does mean they are injured)
They may have gone out of the game due to injury and not returned (sometimes with an official announcement from the team)
They may have left the game but returned, or at least attempted to return (sometimes these guys end up banged up enough to miss future games)
They may have had a vague twitter mention about possibly being injured or leaving a game, so it's something on my radar
I'll continue to post any updates I see during the week, those will be added to daily updates as well as the injury database.
If you are aware of a fantasy-relevant injury from this weekend that you don't see here (or don't see listed in the database), or think anything shared here is incomplete, please tag me on twitter with a link and let me know, thanks!
List of Potential Injury News from Saturday Nov 14 (unless noted):
WR Tutu Atwell, Louisville – was a surprise scratch announced by the team in pregame for undisclosed reasons, this initially felt covid-related but after news that Javian Hawkins had opted out you have to wonder what might be next for Atwell. On Monday morning he was stated to be dealing with an injury.
RB Mulbah Car, Houston – limped off in the 1st quarter, was looked at and returned, but in the middle of the 2nd quarter was injured again. Came out for the second half in street clothes on the sideline and in postgame he was said to have tweaked an ankle injury.
WR KeSean Carter, Texas Tech – in the 4th quarter he was tackled on a reception, he walked off with trainers with a possible arm/shoulder injury. He was out earlier this season with an elbow injury, so it could be related, but that is speculation.
QB Henry Colombi, Texas Tech – he gave way to QB Alan Bowman and in postgame was said to have banged up his left elbow, but postgame quotes were "he's a go" and that he could have gone back into the game.
RB Trestan Ebner, Baylor – only had one carry and in postgame was said to have experienced some muscle tightness in pregame and tried to go but was unable to
WR Emeka Emezie, NC State – in the 3rd quarter he was injured on a pass play and went to the locker room, was said to be questionable to return. The postgame comment was that he was "fine".
RB C'Bo Flemister, Notre Dame – went down after a run in the 4th quarter, trainers appeared to be looking at his left leg. In postgame it was said that "it doesn't appear to be serious".
WR Danny Gray, SMU – on a pass attempt in the 4th quarter he went down and was grabbing at his wrist, which may be the same issue that caused him to miss time earlier this season
WR Donavon Greene, Wake Forest – in the fourth quarter it was noticed he was not on the sideline and in postgame the coach simply replied "he got injured"
TE Chase Hancock, Georgia Southern – injured early in the 3rd quarter and had to be carted off
RB Javian Hawkins, Louisville – was a surprise scratch announced by the team in pregame for undisclosed reasons, this initially felt covid-related but on Monday morning he announced he was opting out of the season to prepare for the NFL draft
RB Keyon Henry-Brooks, Vanderbilt – left the game in the second half as he had to be carted off the field. In game broadcast said he was going to get x-rays on his ribs. The team did not have a postgame update but did say that RB Ja'Veon Marlow would return from suspension next week.
WR Tavares Kelly, Virginia – shaken up on a kickoff return in the 3rd quarter and was down on the ground a while, appeared to take a shot to the head
QB Katravis Marsh, South Florida – came in the game late in relief and got hit as he tried to throw leading to a turnover and defensive TD. He didn't return and in postgame the team did not have an update when asked.
RB Sincere McCormick, UTSA – was unavailable due to the birth of his daughter
RB Marcus McElroy, Colorado State – left the game Thursday night in the first quarter holding his left shoulder/collarbone area after getting tackled on a carry and did not return
RB Dedrick Mills, Nebraska – only had 3 carries, in postgame was said to be "nicked up, he will be fine"
TE James Mitchell, Virginia Tech – in the 2nd quarter he went down after a pass interference call and was hobbled and looked at by trainers and did not appear to return. He had just worked his way back from an injury to play in this game, unclear if this is related.
WR Mycah Pittman, Oregon – was not seen in pregame and was a surprise late scratch. His father actually tweeted that Mycah was 100% healthy and it wasn't until the afternoon of gameday that he was ruled out. In postgame the coach comment was "Those guys did nothing wrong. They were not available tonight."
TE Kyle Pitts, Florida – early in the day was said to be out Saturday night and then in postgame it was shared he had surgery on his nose after taking a hit to the head last week and would be out 11/21 weekend as well.
TE Tony Poljan, Virginia – in the first half he was hit near the goal line and fumbled, then looked at by trainers, I do not believe he returned
WR Kendric Pryor, Wisconsin – was ruled out in the second half by the team with an upper body injury
TE Brady Russell, Colorado – in the first quarter he was helped off the field with a lower leg/foot injury. He went to the medical tent and was seen with his right shoe off. He appeared to get it taped but was later seen without a helmet as he did not return.
QB Anthony Russo, Temple – did not play due to covid protocols and in postgame it was shared that the team knew as early as Monday that he would be out. Had he not been in covid protocol the team said he would have been cleared to play from his previous shoulder injury.
RB Shaki Seymour, Toledo – on Wednesday night he did not play in the second half and was seen on the sideline without a helmet, in postgame was said to be "a little banged up". On Sunday it was reported by the team that Seymour's mother passed away several days ago and that he was dealing with that which is why he didn't play in the second half, so the "banged up" comment sounds like the coach was just looking out for Seymour's privacy.
QB Zac Thomas, App State – in the fourth quarter he took a late hit out of bounds and had to be back-boarded and carted off where he taken by ambulance to the hospital. The team later shared he had feeling in all extremities and had been released. He tweeted last night "I am doing good and ready to get back with the team."
QB Tyler Vitt, Texas State – left the game in the 2nd quarter and was seen with his left hand heavily wrapped. He was later seen in street clothes after a reported possible dislocation of his hand/wrist.
WR De'Vion Warren, Arkansas – injured in 4th quarter, was down on the field with helmet off in pain, limped off field and did not return
RB Kyren Williams, Notre Dame – near the end of the first half he landed on his shoulder coming out of the backfield on a pass route and was looked at by trainers on the sideline. In postgame it was said that he was "banged up" but could have returned.